20 activists brutally detained in Istanbul
Nearly 20 members of ESP, SGDF and Kaldirac who protested the detention of party colleagues in Istanbul were detained and subjected to police violence.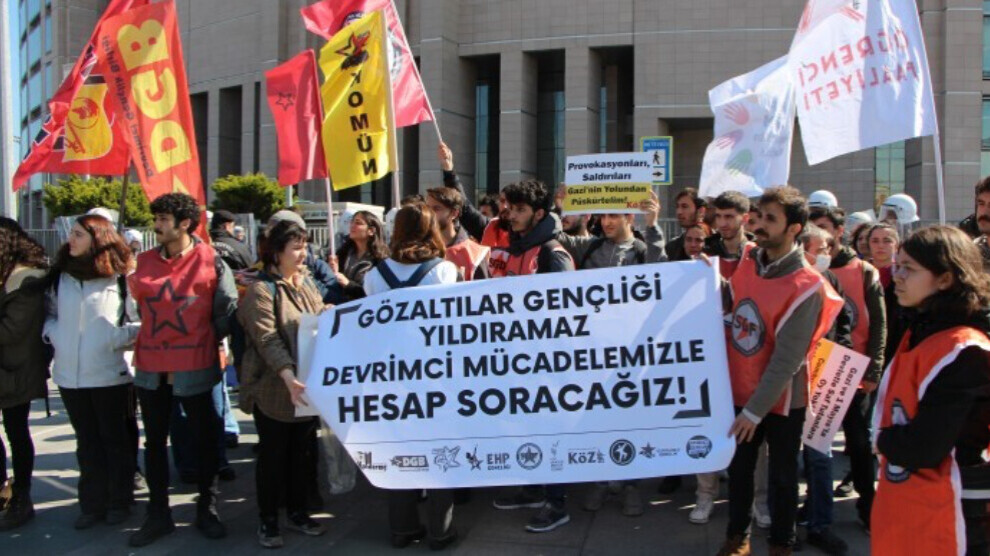 Members of the Socialist Party of the Oppressed (ESP) Party Assembly, the Federation of Socialist Youth Associations (SGDF) and the Socialist Women's Assembly (SKM) gathered to make a statement in front of the Istanbul Courthouse in Çağlayan to demand the release of their colleagues detained on March 12 as part of an investigation carried out by the Istanbul Chief Public Prosecutor's Office.
Members of the Kaldirac organization and the Revolutionary Youth Associations also joined the crowd in an act of solidarity. The activists were blocked by the police before making a statement to the press in front of the courthouse.
Many activists were battered by the police during a mass detention. It is reported that almost 20 activists have been detained.
Journalists covering the demonstration reacted to the police, saying "You are committing a crime." The police replied: "If we are committing a crime, so what?"
ADANA
In the southern province of Adana, youth organizations protested the detention of 9 people, who included members of the ESP Party Assembly, the SGDF, SKM) and Elif Bayburt from Etkin News Agency, during the house raids carried out in three cities as part of an Istanbul-based investigation on March 12. Many people attended the demonstration at the ESP Adana branch. Yoldas Mete, who read out a press statement on behalf of youth organizations, said that the state, which did not provide aid to the earthquake survivors, targeted the young activists who showed solidarity with the people.