307 intellectuals side with the HDP and Demirtaş in Izmir
We want peace and justice, and we can build them together with the HDP, said the intellectuals.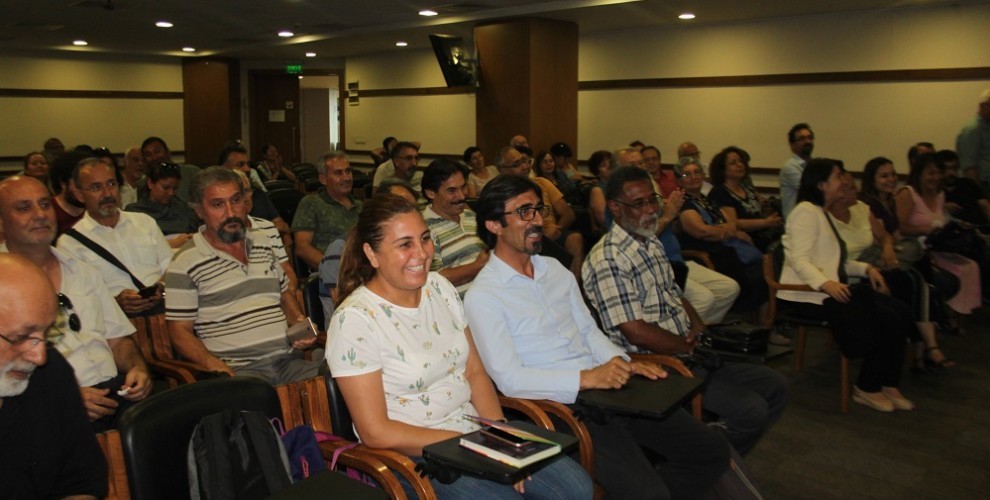 More and more well known people are stepping out and declare their support for the HDP (Peoples' Democratic Party) and its presidential candidate, Selahattin Demirtaş in the 24 June elections.
In Izmir, some 307 intellectuals and democratic people, including lawyers, academics, dismissed teachers and workers [sacked by AKP Decree Law, after the 15 July attempted coup] gathered and expressed solidarity with the HDP.
Many of the academics supporting the "We will not be a party to this crime" campaign, are among those who declared their vote will go to the HDP: Dr. Nigün Toker, Prof. Dr. Ayşen Uysal, Dr. Serdar Tekin, Prof. Dr. Cem Terzi and lawyer Arif Ali Cangı, lawyer Abdulhadi Cetin, artists Ilkay Akkaya, Şehbal Şenyurt.
Uysal and Tekin read a declaration on behalf of the intellectuals and democrats who came together at the Tepekule Congress Center in Izmir.
"Our vote to Selahattin Demirtaş, our vote to the HDP" said the intellectuals, pointing out that the AKP ruling of the country is coming to an end.
The declaration added that "cities, living spaces, natural assets have been plundered and abandoned and the AKP has brought the country on the verge of bankrupt to remain in power. They have polarized the society, provoking nationalism and constantly dragging the country into new conflicts and wars".
The statement continued: "This situation in which one person is deciding the future of 80 million citizens, the OHAL [State of Emergency] persists, the constitution and the rule of law are lost, can no longer being sustained".
Reminding the twitter campaign where millions said "Tamam" (enough) to the AKP power, the intellectuals added that "the HDP can rebuild the future of the Turkish society, peace on the basis of justice and democracy. Together with the HDP we think we can achieve what is needed: we want peace, we want to live together respecting and acknowledging our differences, we want to live together in prosperity. We want justice for everyone. We want democracy and to be able to rule ourselves as free citizens. We want clean air, water and food, we want our children to live in a viable and friendly Turkey".