31 summaries of proceedings issued for 19 HDP MPs
The Turkish government continues its political genocide against the Kurdish people and their elected representatives.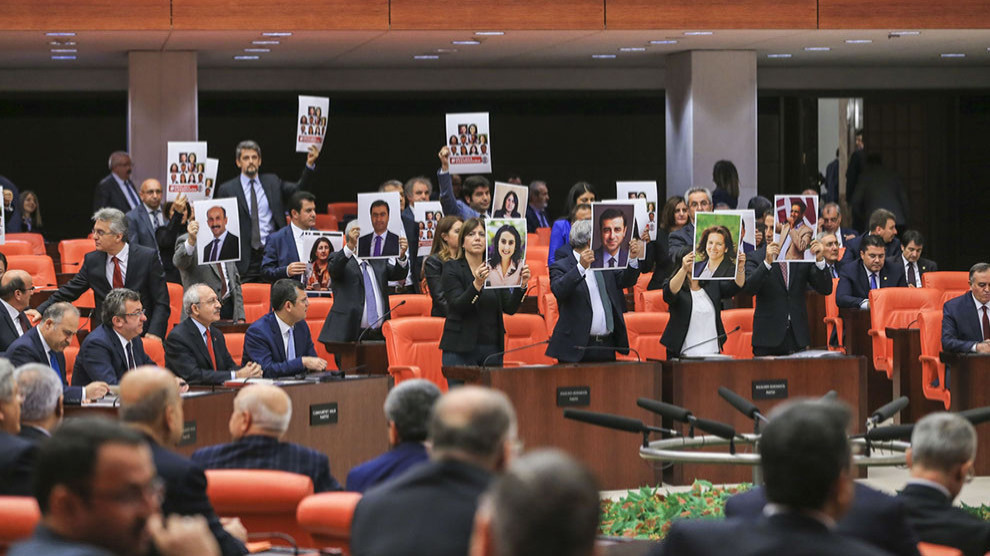 Another 31 summaries of proceedings have been issued for 19 deputies of the Peoples' Democratic Party (HDP).
The summaries of proceedings which have been submitted to the Grand National Assembly of Turkey demand the abolishment of the parliamentary immunity of the following MPs, among them HDP co-chair Pervin Buldan and DBP (Democratic Regions Party) co-chair Saliha Aydeniz:
Pervin Buldan (4), Sezai Temelli (2), Saliha Aydeniz (4), Remziye Tosun (2), Ömer Faruk Gergerlioğlu (2), Şevin Coşkun (2), Feleknas Uca (1), Meral Danış Beştaş (2), Musa Farisoğulları (1), Tayip Temel (1), Ebru Günay (2), Kemal Bülbül (1), Pero Dündar (1), Nuran İmir (1), Gülistan Kılıç Koçyiğit (1), Ayşe Acar Başaran (1), Dersim Dağ (1), Mensur Işık (1), Ömer Öcalan (1).
The deputies are accused of propaganda for or membership of a terrorist organisation in connection with their political activities.
The lifting of immunity and subsequent imprisonment of HDP MPs is a means used by the Turkish state in recent years to eliminate all opposition. Almost every week, the Ankara Prosecutor General's Office presents investigation reports for the removal of immunity of HDP members of parliament.
The AKP has used the attempted coup on 15 July 2016 as an opportunity to stage a political coup in a state of emergency. With the MHP as a coalition partner, the government's first official act was to deprive local governments of their will. This process was gradually followed by the elimination of the critical media and the containment of civil society. Even two years after the state of emergency was lifted, emergency measures are still being used everywhere.