33 "dream travelers" commemorated in Suruç
At a memorial ceremony in front of the Amara Cultural Center in Suruç, the young "dream travelers" who were taken from their lives in an attack six years ago were remembered: "They live on in the revolution of Rojava."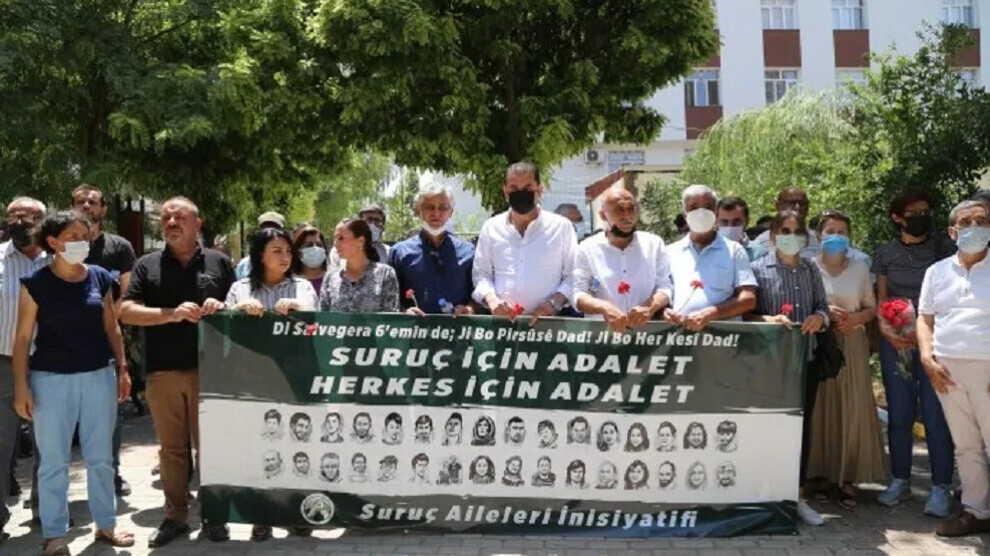 In many cities in Turkey, the victims of the cruel attack in Suruç were remembered and justice was demanded. In the attack six years ago, 33 mainly young people were killed by an ISIS assassin, 104 others were injured, some seriously. The attack occurred when 300 young people gathered at the Amara Cultural Center at the call of the Federation of Socialist Youth Associations (SGDF) to hold a press conference before leaving for Kobanê. The planned trip to northern Syria was meant to be an act of solidarity. The young people wanted to bring children's toys and humanitarian aid supplies to the city destroyed by ISIS.
One of the commemorations took place at the scene of the crime in Suruç. The event was attended by HDP deputies Nimetullah Erdoğmuş, Ayşe Sürücü, Nusrettin Maçin and Ömer Öcalan, ESP deputy chairwoman Beycan Taşkıran, mayor Hatice Çevik, who was deposed by the Interior Ministry, Tanya Kara from the SGDF board and numerous other people. The participants gathered at the local HDP headquarters and walked unitedly from there to the Amara Cultural Center. On the way, the people were stopped and searched by the police. The police confiscated photos of the victims.
Carnations were laid in the garden of the cultural center where the suicide bomber blew himself up on June 20, 2015. The participants unfurled a banner with photos of the victims and held a minute of silence. They then chanted, "Justice for Suruç, justice for all" and "Şehîd namirin" (Martyrs are immortal).
Tanya Kara said in a speech, "We were meant to be annihilated, they did not succeed. We are here. The 33 dream travelers live on in the revolution of Rojava."
Beycan Taşkıran pointed out the responsibility of the state in a speech and said, "In this country, people are killed in state massacres. We will not bow to the fascist dictator and will continue to demand accountability."
A planned visit to the cemetery where Kasım Deprem and Osman Çiçek are buried following the commemoration ceremony was prohibited by the police. The cemetery was cordoned off with armored cars, and only family members and deputies were to be allowed through. The crowd protested against this and made a statement in front of the cemetery. HDP deputy Ayşe Sürücü condemned the police crackdown, saying, "They won't even allow you to say a prayer at the cemetery." Former mayor Hatice Çevik said, "We know our killers and will continue to fight to build an equal and free life."