65 women write to OPCW to investigate claims of Turkish use of chemical weapons
Women from different countries wrote to OPCW Director-General Fernando Arias about the accusations of Turkey having used internationally prohibited weapons.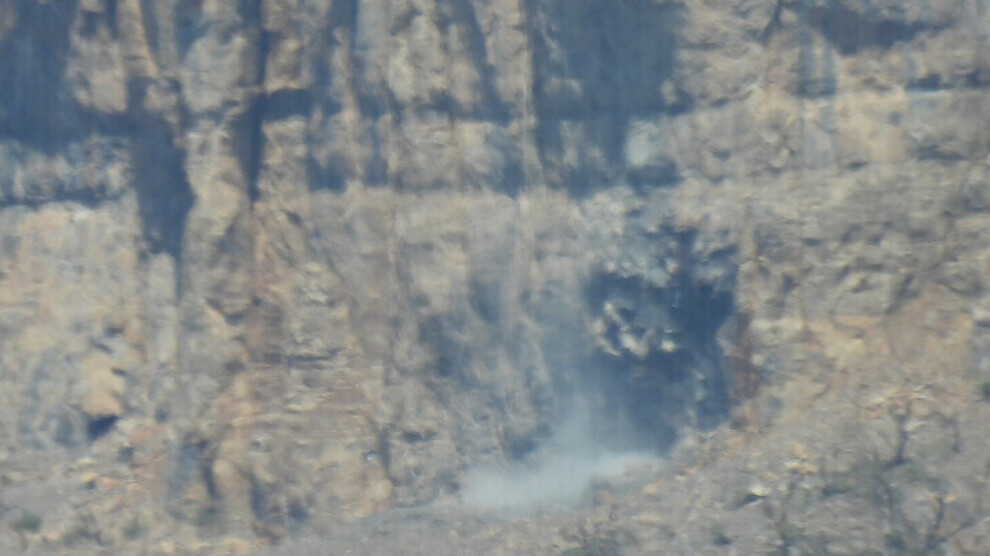 65 women from different countries wrote an open letter to OPCW (Organisation for the Prohibition of Chemical Weapons) Director-General Fernando Arias, demanding an investigation into allegations of Turkish use of chemical weapons against guerrillas. 
The letter is as follows:
"We are addressing you today as women from different countries regarding a matter of grave concern. Once again, the Turkish army is facing accusations of having used internationally prohibited weapons. 
Since April 23, 2021, the Turkish state has been conducting a military offensive in North Iraq against the Kurdish guerrilla and the civilian population. Beyond the fact that this military operation in one of its neighboring country is illegal under international law, Turkey is also committing war crimes by using internationally banned weapons.  
According to information provided by the press office of the People's Defense Units (HPG), the Turkish army has carried out a total of 138 attacks with chemical weapons in the last 5 months, as a result of which several fighters have lost their lives. On September 3 alone, three fighters were killed in Gire Sor in the region Avashin. Not only are guerrilla fighters the target of these atrocities. The village of Hirore was attacked with chemical weapons on September 4 and one family suffered injuries from the attack. The NGO 'Christian Peacemaker Teams in Iraq' has confirmed that these injuries were caused by the use of chemical weapons.
This is not the first time: Already in 2010, 2013 and especially due to a bombing in the North Syrian town of Serekaniye (Arabic: Ras al-Ayn) in October 2019, Turkey has been accused of the use of chemical weapons against civilians. Incriminating footage and expert opinions in the international media supported this accusation at the time. On October 17, 2019, Turkey used white phosphorus during its airstrikes on the town of Serekaniye, and dozens of people including children and women were seriously injured. At that time, too, international organizations and the state community remained silent towards Turkey's crime. 
History is full of state atrocities against individuals or ethnic groups because they are exposed to states without protection. To prevent this, international laws and mechanisms such as your organization have been established as an achievement of humanity. But we see that this state of affairs continues because these very laws and mechanisms do not consistently fulfill their obligations. 
We are sorry to see that neither national nor international law applies when it comes to the Kurds. Turkey, as a ratifying state of the OPCW, has been carrying out atrocities for years before the eyes of the international public and your organization without being held accountable. 
The poison gas attack by Saddam Hussein against the Kurdish people in North Iraq in 1988 could have been prevented if his activities had been stopped beforehand. For the more than 5000 victims of the poison gas attack and their relatives in the city of Halabja, it was nothing but a mockery that 15 years later they were used as a pretext for attacking Iraq and for causing even more suffering.   
We do not want to aid and abet this crime through inaction. We expect you, as the Director-General of an international organization for the prohibition of chemical weapons, to fulfill your responsibility, to investigate these serious allegations, to take clarifying action and to hold Turkey accountable for its crimes." 
The signatories are as follows:
Silvia Federici, Professor Emerita of Political Philosophy and International Studies, Hofstra University – USA 
Nancy Fraser, Professor of Philosophy and Politics - USA 
Gloria Steinem, Writer and feminist organizer, Co-founder of Ms. Magazine and the Women's Media Center - USA 
Debra Winger, Actress - USA 
Charlotte Bunch, Founding Director of the Center for Women's Global Leadership and Distinguished Professor, Rutgers University.  
Marina Sitrin, Associate Professor of Sociology, State University of New York (SUNY) Binghamton; JD in International Women's Human Rights, City University of New York Law School.  
Joy James, Ebenezer Fitch Professor of the Humanities, Williams College. 
Joya Misra, Professor of Sociology & Public Policy at the University of Massachusetts, Amherst Director, Institute for Social Science Research, and Chair, Sex & Gender Section of the American Sociological Association 
Debbie Bookchin, Journalist and author - USA 
Meredith Tax, Writer - USA 
Miriam Miranda, OFRANEH (Organización Fraternal Negra de Honduras), Coordinator - Honduras 
Claudia Korol, Feministas del ABYA YALA - Argentina 
Margara Millan, Academic - Mexico 
Sylvia Marcos, Writer and academic- Mexico 
Cheryl Hayles, President of International Alliance of Women (IAW) - Canada 
Kurdish Women's Relations Office (REPAK) - Kurdistan Region of Iraq 
Democratic Plurinational Women's Platform – Iran 
Bese Shamari, Board member of Democratic Platform of Iran – Iran 
Women's Democratic Front – Pakistan 
Revolutionary Association of the Women of Afghanistan (RAWA) - Afghanistan 
Selay Ghaffar, Spokeswoman of Solidarity Party of Afghanistan (Hambastagi) – Afghanistan 
Belqis Roshen, Member of National Assembly - Afghanistan 
Gita Sahgal, Writer and film producer, co-founder of Southall Black Sisters and Women Against Fundamentalism, former head of Amnesty International's Gender Unit - India 
Helda Khasmy, Chairwoman of SERUNI - Indonesia 
Maat for Peace, Development and Human Rights - Egypt 
Dr. Angela Al-Maamari, President of Center of Strategic Studies to Support Women and Children - Yemen 
Fathia Hezem, Tunisian Association of Democratic Women - Tunisia  
Bushra Al-Tai, Seba Center for Studies and Human Development - Iraq 
Shereen Karim Murad, Democratic People's Front Women's Committee President - Iraq  
Dr. Maha Al-Sakban, Academic - Iraq 
Insaf Abdullah, Women's rights activist - Sudan  
Dr. Heba Haddadini, Feminist activist - Jordan 
Kanir Abdullah Hama Aziz, Writer, Sulaymaniyah Governorate - Kurdistan Region of Iraq  
Ramzieh Muhammed, Kongra Star spokeswoman - Rojava  
Eman Fetaih, President of Syrian Women's Forum for Peace - Lebanon 
Rima Barakat, Co-Chair of Justice Council - North East Syria  
Mona Yaya, Sahrawi Community of Human Rights Defenders - West Sahara 
Dr. Sophia Zaza, President of Health and Shield Association - Lebanon 
Rahila Gupta, Southall Black Sisters, Journalist - UK 
World Women's March - Basque Country 
Jule Goikoetxea Mentxaka, Academic - Basque Country 
Oihana Etxebarrieta, Basque parliamentarian and secretariat of Feminisms of EH Bildu - Basque Country 
Eider Azkunaga Hernández, International Department Euskal Sindikatua - Basque Country 
Women Defend Rojava Madrid - Spain 
Rojava Azadi Madrid - Spain 
Commons Foundation (Fundación de los Comunes) - Spain 
Ann-Margarethe Liv, Founder of Solidaritet med Kurdistan - Sweden 
Lorena Delgado Waras, MP - Sweden 
Amineh Kakabaveh, MP – Sweden 
Parvin Ardalan, Writer, journalist and women's rights activist - Sweden 
Seher Aydar, MP - Norway 
Sofie Marhaug, MP - Norway 
Hege Bae Nyholt, MP - Norway 
Anina Jendreyko, Artist - Switzerland  
Maja Hess, Doctor - Switzerland 
Mitra Darvishian, Writer and women's rights activist - Germany 
Women Defend Rojava - Germany 
Cansu Özdemir, MP - Germany 
Şeyda Kurt, Journalist and writer - Germany 
Elif Küçük, Visual artist - Germany 
Antonella Valenti, Calabria University Professor - Italy  
Italian Coordination in Support of Afghan Women (CISDA) - Italy 
Dr. Palmira Tavolaro, Academic - Italy 
Donata Chirico, Calabria University - Italy 
Maria Laura Corradi, Researcher - Italy