Activists at Geneva vigil demand "Freedom for Öcalan"
Since the beginning of 2021, activists have protested the Turkish state's war against the Kurds and the freedom of Öcalan with a vigil in front of the UN headquarters in Geneva.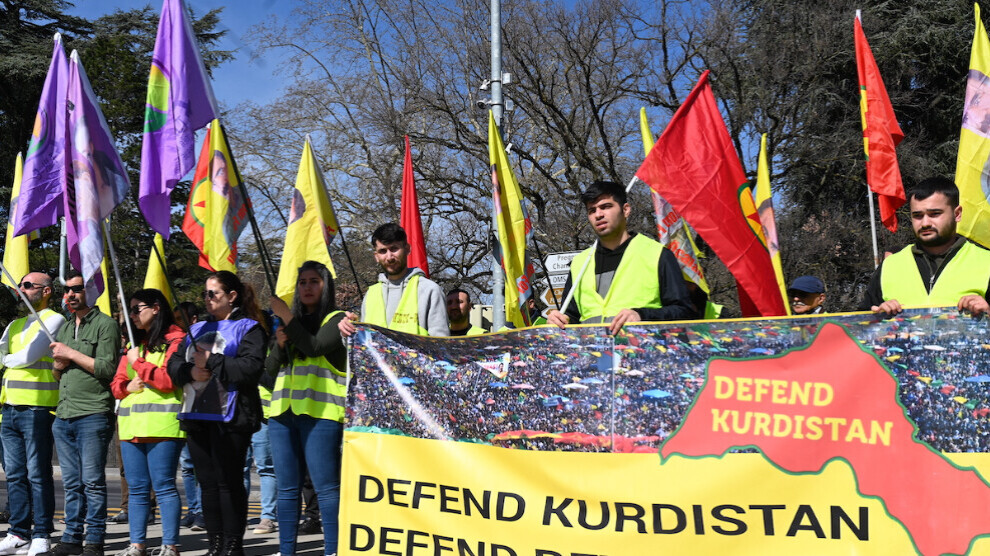 A vigil by the Democratic Kurdish Community in Switzerland has been taking place in front of the UN headquarters in Geneva since 25 January 2021. Every Wednesday, activists march in front of the United Nations building to demand the release of Kurdish people's leader Abdullah Öcalan. This week the focus of the protest event was Newroz, Kurdish New Year.
Today's vigil began with a minute of silence in memory of the martyrs who fell fighting for the freedom of the Kurdish people and Kurdistan.

Speaking here, the co-chair of the Democratic Kurdish Community Center in Geneva (CDK), Erdal Atasoy, stated that March is the month of resistance for the Kurdish people, wishing a happy Newroz to Öcalan, the guerrillas resisting in the mountains of Kurdistan and the Kurdish people.
Atasoy pointed to the enthusiasm that marked this year's Newroz celebrations in Amed (Diyarbakur) and all around the world, attributing this spirit to the founding of the PKK (Kurdistan Workers' Party) by Öcalan and a group of companions on Newroz 51 years ago.
Remarking that millions who attended Newroz celebrations this year have highlighted their demand for "Freedom for Öcalan", Atasoy said that this call should be answered from Europe as well.
Criticizing the UN's silence in the face of the isolation regime imposed on Öcalan and the massacres against the Kurds, Atasoy said as the hundredth anniversary of the Treaty of Lausanne approaches, actions to be organised on this occasion would be of historic importance to the Kurdish people and the peoples of the Middle East.
The activists turned their backs on the UN in protest at its silence on Öcalan's isolation and massacres in Kurdistan as the 52nd regular session of the Human Rights Council took place at the UN headquarters.