Activists from Kassel take over 538th week of Freedom for Abdullah Öcalan Vigil
In the 538th week of the Freedom for Abdullah Öcalan Vigil, a delegation from Kassel took over the action. The group underlined the inseparable connection between Öcalan's freedom and the question of freedom in Kurdistan.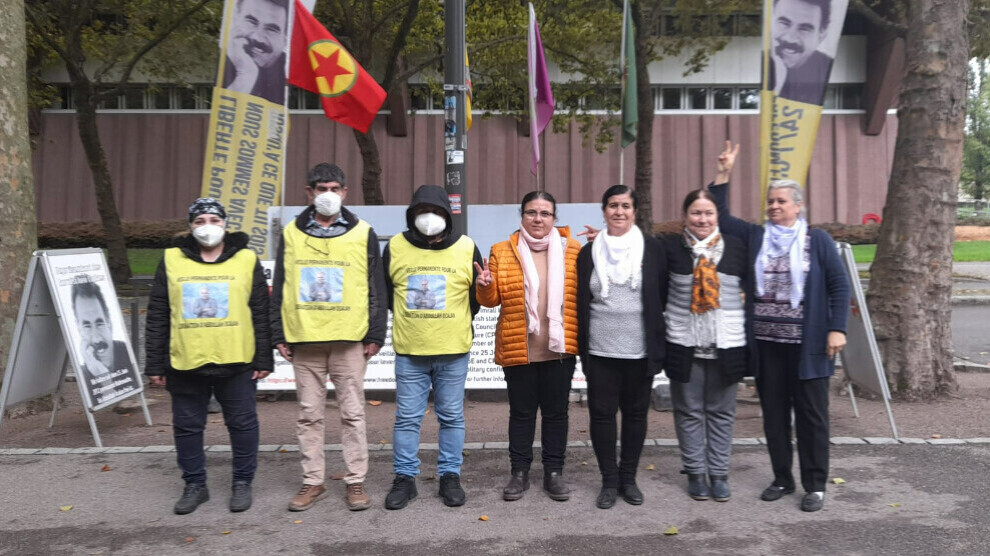 Since 25 June 2012, a permanent vigil for the freedom of Abdullah Öcalan has been taking place in front of the European Committee for the Prevention of Torture (CPT) in Strasbourg. This week, a group of activists from Kassel took over the protest. In the group are Serhan Akad, Leyla Kassel and Ahmed Başur.
"CPT does not release information on the situation in Imrali"
Akad, speaking on behalf of the group, said: "The European institutions are playing deaf and dumb to isolation. The CPT recently visited Imrali but does not release any information about it. We haven't heard from Rêber Apo [Abdullah Öcalan] for months. The youth and the women must stand up for the vigil and the freedom of Rêber Apo."
Akad referred to the CPT's September 20-29 visit to Turkey, during which the committee also visited Imrali. However, the committee does not release any information about the situation in Imrali and has announced that it will only send its report to Turkey in six months. This report will then only be published with the consent of the AKP/MHP regime.
"Freedom of Rêber Apo means freedom of the Kurdish people"
Leyla Kassel said: "We all know that we cannot free ourselves until Rêber Apo is free. He puts up more resistance in the prison than we do out here. I hope that the vigil will ensure the freedom of our people and Rêber Apo. The liberation of the Kurdish people means the liberation of all the oppressed peoples of the world. Because the paradigm of apoism has meaning for all oppressed peoples."