Activists from Sachsen take over Freedom for Öcalan Vigil in Strasbourg
Members of the Sachsen state DKTM took over the Freedom for Öcalan Vigil in Strasbourg in week 529.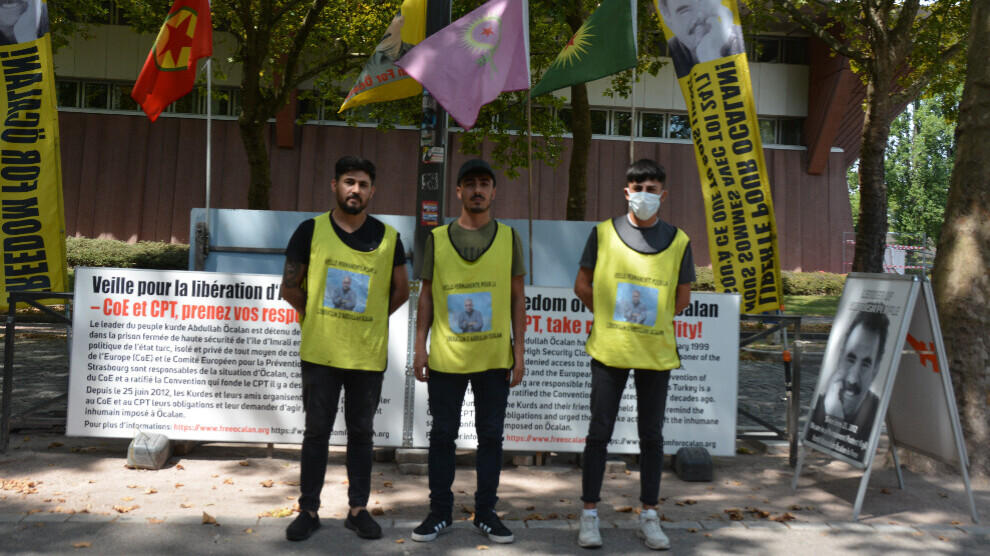 The Freedom for Abdullah Öcalan Vigil was launched on 25 June 2012 in Strasbourg, to demand both the physical freedom of the Kurdish people's leader and the end of the isolation imposed on him.
The vigil has entered its 529th week and has been taken over by the DKTM members of the Sachsen state in Germany.
The new group includes Mustafa Güngörur, Abdullah Karakaş and Taner Çelik.
Speaking on behalf of the group, Mustafa Güngörur pointed out that Kurdish people's leader Abdullah Öcalan represents the will of every oppressed people, not just of the Kurdish people, and that he is the leader of young people.
"By putting our leader in prison, the enemy of the Kurdish people tried to take away our will, but Abdullah Öcalan's resistance in Imrali made the international conspiracy fail. This resistance meant the resurrection of the Kurdish people."
European states are partners of isolation and torture
Mustafa Güngörur said that the partners of the international conspiracy are the European states, especially the US, and added that the Freedom Vigil, which is carried out next to the European institutions in this sense, "exposes the betrayal of these states against the Kurdish people."
Güngörur said that Europe is just talking about human rights and democracy, but in practice it just uses these values as a political tool for its economic interests. "With this vigil, we show that those values ​​that they defend are hollow. Because if they had defended these values, they would not have been partners in the unprecedented torture of our Leader. European states are partners in the crime against humanity committed by the Turkish state against our Leadership and our people."
The activist said that the Council of Europe and its affiliated CPT are not fulfilling their duties, and added: "If these institutions were to make a self-criticism to rectify their attitude towards the Kurdish people, then they would urgently need to take steps for the freedom of our Leader."
Condemning the Turkish state's invasion attacks against the Medya Defense Areas in partnership with the KDP, Mustafa Güngörur saluted the historical resistance of the guerrillas and called on the Kurdish people, especially young people, to unite and support the Zap, Metîna and Avaşîn resistance.