Activists in Kassel block war company Krauss Maffei Wegmann
Activists in Kassel are blocking the war company Krauss Maffei Wegmann.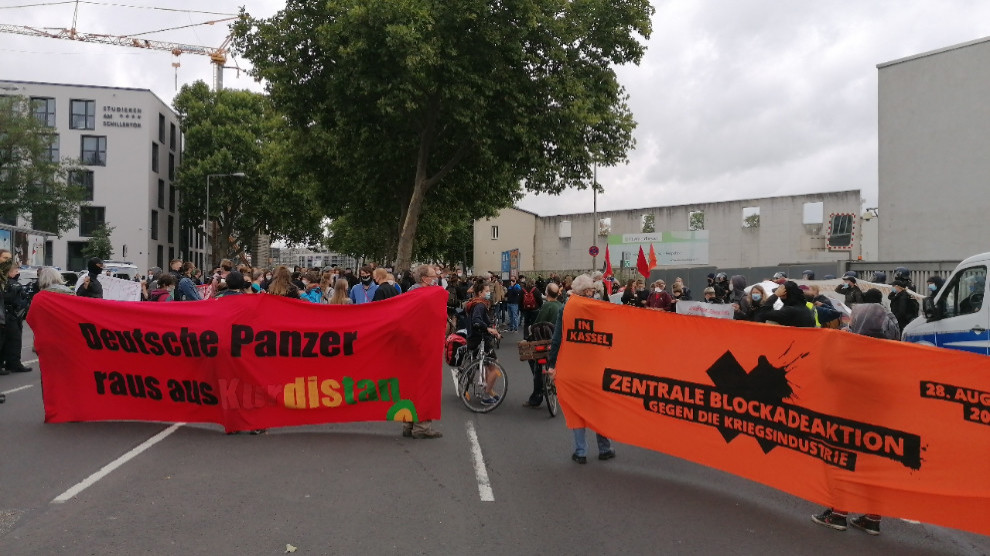 Since 5 am this morning activists in Kassel are blocking the war company Krauss Maffei Wegmann.
This company manufactures parts of the Leopard 2 tanks that the Turkey gave their proxies to invade Serekaniye and Afrin.
Under the slogan "Block the war industry - no cooperation with the Turkish regime", the campaign Riseup4Rojava had called for participation in a central blockade action today in Kassel.
Kassel is the hotspot of the German arms industry. "In Germany production continues - in Kurdistan bombing continues," said the international campaign Riseup4Rojava.
The German state is one of the most important arms exporters for the Turkish regime. This is true even after the alleged ban on arms exports imposed by the German government after the Turkish military invaded northeastern Syria in October 2019 in violation of international law.
This export stop, which is not one, shows that the Federal Government and German arms companies continue to seek cooperation and good relations with the highly equipped and expansive Turkish state and are by no means willing to turn against the fascist AKP/MHP regime, which is waging a merciless war of annihilation against the Kurdish population and the democratic-revolutionary forces in the region.