Activists in London and Munich demand recognition of Shengal autonomous status
In the protests held in London and Munich on the occasion of the anniversary of the 3 August Yazidi Genocide, activists demanded the recognition of the autonomous status of Shengal.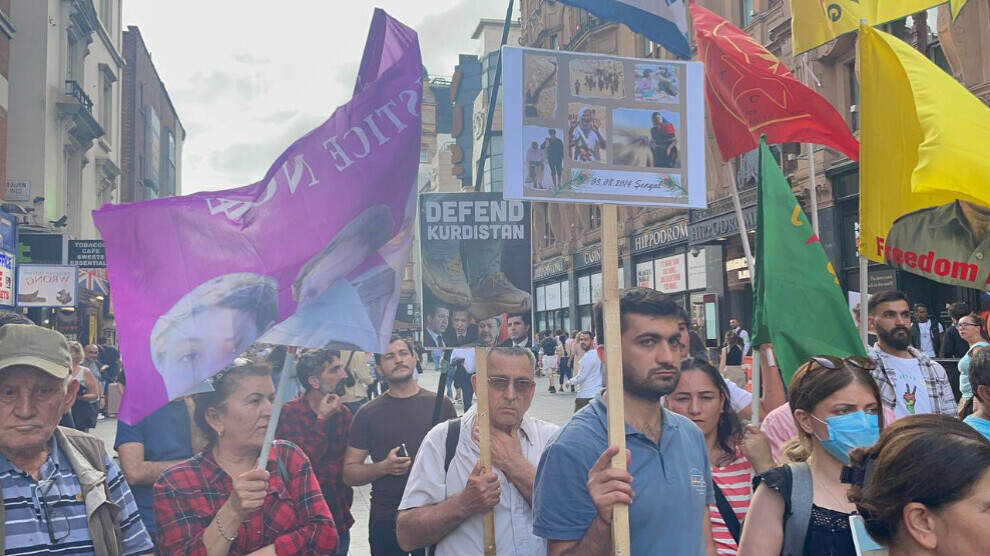 The Revolutionary Youth Movement (TCŞ) Martyr Fîraz Dağ Youth Commune and Jiyan Women's Assembly organized a commemoration event in London to pay tribute to all those who lost their lives in the genocidal attacks launched by ISIS mercenaries on Shengal on 3 August 2014. In the statement made at the demonstration, activists spoke about the Yazidi people, the history and tragedy of Shengal, the victory of the PKK and the guerrilla resistance still going on today.
Activists also listed some demands:
*The massacre in Shengal should be recognized as the Yazidi Genocide' and 'the day of the massacre of women' all over the world.
* The status of Shengal should be recognized, its autonomy should be accepted and supported so that the Yazidi community, which has experienced dozens of massacres, is not subjected to new ones.
* All democratic and progressive forces, especially women's movements and organizations, should work for the liberation of the thousands of Yazidi women still in the hands of the Islamic State.
*International institutions and democratic forces should stand against all impositions on the Yazidi community, take the will of the Yazidi community as a basis, and recognize their self-defense and self-government.
* The conditions for the Yazidi community to return to their own lands, Shengal, should be created.
MUNICH
A commemoration event was also held in Munich. At the rally organized by the Kurdish Community Council in Stachus, one of the city's busiest squares, a call was made for the recognition of the autonomous status of Shengal.
Banners condemning the genocide and YBŞ flags were carried at the rally, while KON-MED read and distributed a statement demanding the recognition of the status of Shengal.