Hamburg artists and politicians protest seizure of municipalities
Politicians and artists living in Hamburg have strongly condemned the decision by the Turkish government to appoint trustees to the HDP-run municipalities of Amed, Van and Mardin.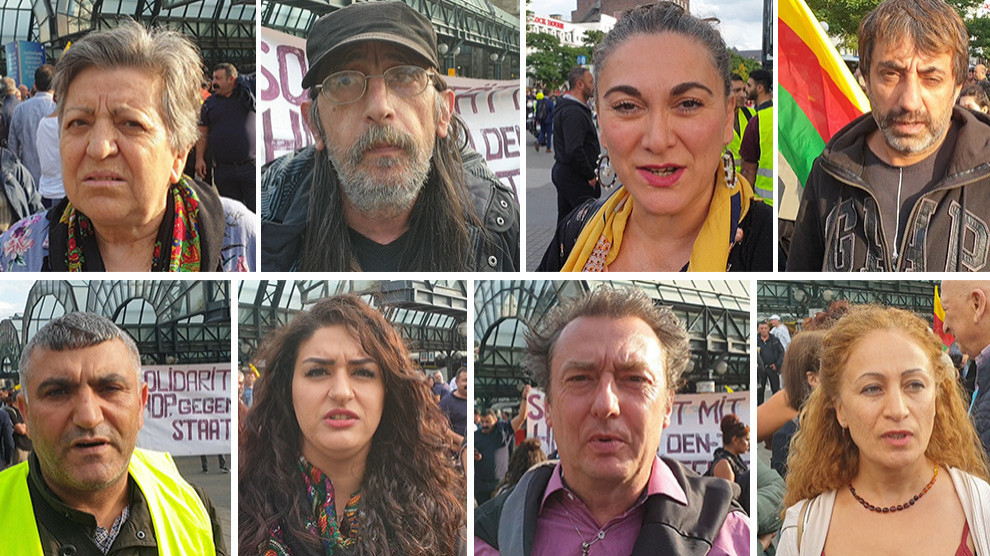 The seizure of the three largest metropolitan municipalities of northern Kurdistan by the AKP government was protested in Hamburg with a crowded march and rally.
A large number of German, Kurdish and Turkish politicians and artists joined the demonstration and protested the Turkish government decision.
Hamburg State Council Member Die Linke MPs Cansu Özdemir and Martin Dolzer, artists Önder Çakar, Leman Stehn and Nazmi Kırık, Harburg Parliament Co-Chair Abuzer Bilener share their comments with ANF.
Die Linke Cansu Özdemir said that the decision to appoint trustees was a political coup. "Mr. Öcalan - said Özdemir - has recently reiterated his calls for peace. The AKP decision to dismiss the HDP co-mayors appears to be a response to this call. The AKP is again planning massacres against the Kurds."
Die Linke deputy Martin Dolzer also condemned the AKP move and called on the German government to take a stand against the Erdogan regime. Dolzer underlined that appointing trustees is a method used by fascist regimes.
Cinema artist Önder Çakar said: "We will surely win, this kind of attacks actually strengthens us." 
Artist Leman Stehn drew attention to the resistance carried out on the Kaz Mountains [where people are fighting against gold mine deforestation]. Stehen said that the resistance will win both on the Kaz Mountains and against trustees.
"The Municipalities should be given back immediately, - said cinema artist Nazmi Kırık - this decision shows great disrespect to the people of those cities."
Abuzer Bilener, co-chair of the Harburg Parliament, said that the municipalities can be taken back with resistance.