British Trade Unions not intimidated by Turkish pressure
Turkey's ambassador to Britain has written to the unions asking them to back off from an event in solidarity with Kurdish people.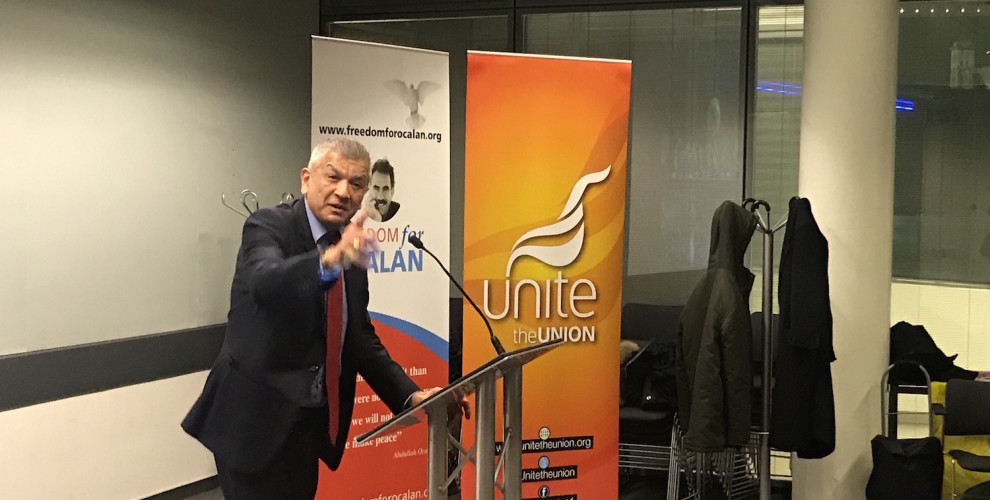 Fourteen British trade unions refused to be intimidated by the Turkish state, after a letter from Turkey's ambassador to Britain, Umit Yalçin, trying to silence a solidarity event with Kurdish people.
General secretaries of 14 unions — including Unite, the CWU, Aslef and Usdaw — remained defiant after being sent the letter from Turkey's ambassador demanding they pull out of the Freedom for Ocalan campaign which was launched in Parliament in 2016.
The event was held on Tuesday and supported by London Assembly member for City and East and chair of the Justice for Kurdistan campaign Unmesh Desai.
Mr Desai added: "It is the task of socialists and in particular their elected representatives to raise the cause of working people and the oppressed wherever they are. We in the labour movement are internationalists and need to highlight the draconian situation in Turkey with attacks by the ultra nationalistic Erdogan government on the Kurdish people and other minorities, trade unionists, women, left and democratic organisations and progressive parties."
Desai also said that "the trade union-sponsored meeting seeks to highlight this and how with an imminent invasion of Rojava by the Turkish government, the release of a 70-year-old prisoner can help in securing peaceful and just solutions to historical grievances within a democratic framework."
Unite international director Simon Dubbins warned that the pressure was being applied now because of Turkey's threats to invade Manbij after the US withdrawal from Syria and with the growth in support for the campaign for the release of Mr Ocalan in Britain.
"The two are absolutely linked," Mr Dubbins said, "It is clear that the Turkish state is nervous of the growing support in solidarity with Kurds and progressive forces in Turkey, along with the Freedom for Ocalan campaign."
But he said the letter had the opposite effect and had in fact strengthened trade union backing for the campaign, with the Freedom for Ocalan campaign the centre of last year's Durham Miners' Gala.
"We are more solid and unified than before," he said, adding that unions were "determined not to allow the Turkish embassy to intimidate them into cancelling the meeting."
In the letter to the Turkish ambassador, the 14 unions said: "Thank you for your letter concerning the Freedom for Ocalan event […] We can indeed confirm that our organisations are supporting it and representatives of our organisations will be in attendance.
The wider UK trade union and labour movement have a very long and proud history of international solidarity work and we have always stood shoulder to shoulder with those facing oppression, such as our campaigns for the rights of Palestinians, south Africans and Colombians."
The letter continued: "We are currently deeply concerned about the human rights situation in Turkey generally and in particular with regard to the treatment and repression of the Kurdish population, both within Turkey and in the neighbouring countries of Syria and Iraq. In line with our principles and traditions we intend to continue to stand in solidarity with the Kurdish population until their human rights are respected and they are treated fairly and properly."
The letter ended by saying: "From our own experience in the UK and on the island of Ireland, we are well aware f the devastating impact of armed conflicts on civilian populations and we support all moves that may help to bring them to a negotiated and peaceful resolution. In this respect the decision of Turkish President Recep Tayyip Erdogan in 2015 to unilaterally terminate the peace negotiations with the PKK and its leader Abdullah Ocalan was bitterly disappointing."
The letter was signed by:
Mick Whelan – General Secretary, Associated Society of Locomotive Engineers and Firemen
Dave Ward - General Secretary, Communications Workers Union
Larry Flanagan – General Secretary, Educational Institute of Scotland
Matt Wrack - General Secretary, Fire Brigades Union
Doug Nicholls – General Secretary, General Federation of Trade Unions
Tim Roache – General Secretary, GMB union
Mary Bousted - General Secretary, National Education Union
Kevin Courtney - General Secretary, National Education Union
Mick Cash - General Secretary, National Union of Rail, Maritime and Transport Workers
Mike Clancy – General Secretary, Prospect
Mark Serwotka - General Secretary, Public and Commercial Services Union
Manuel Cortes - General Secretary, Transport Salaried Staffs' Association
Len McCluskey – General Secretary, Unite the Union
Paddy Lillis - General Secretary, Union of Shop, Distributive and Allied Workers 3
Stephen Cavalier – Thompsons Solicitors
RELATED NEWS: