Day 113 of indefinite hunger strike in Strasbourg
The hunger strike in France has left 113 days behind.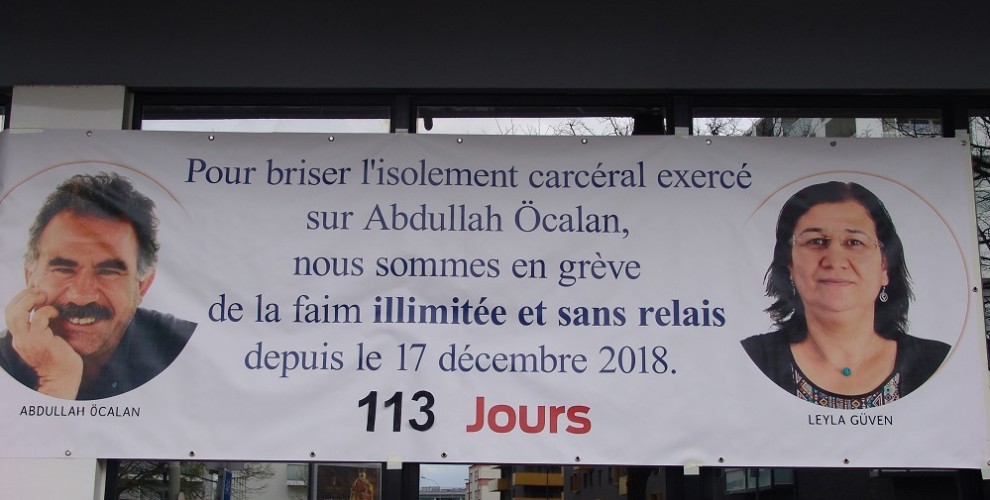 14 Kurdish activists went on an indefinite and non-alternating hunger strike in Strasbourg on 17 December 2018 as part of the resistance initiated by HDP MP Leyla Güven demanding the end of the isolation imposed on Kurdish People's Leader Abdullah Öcalan by the Turkish regime.
Despite their quickly deteriorating health, the hunger strike activists who are members of the Freedom for Öcalan Initiative and include journalists, politicians and academics, remain determined to continue their fast until the isolation is brought to an end.
The hunger strike at 273 Avenue de Colmar in Strasbourg has left 113 days behind. The activists are visited by Kurds and their friends coming from all around Europe to express their solidarity every day.
The 14 activists have been examined again by Dr. Fahrettin Gülşen on Monday. The doctor will reportedly share the details about the physical conditions of the hunger strikers later on.
Several Kurdish patriots and artists who joined the protest in front of the Council of Europe today have also paid a visit to the hunger strike activists today but were not able to talk to them as the activists cannot accept visits due to their critical health conditions.
The indefinite hunger strike action in Strasbourg is joined by European Kurdish Democratic Society Congress (KCDK-E) Co-chair Yüksel Koç, former HDP deputy Dilek Öcalan, academic Kardo Bokani, lawyer Deniz Sürgüt, journalist Gülistan İke, politician Mustafa Sarıkaya, Nurgül Başaran, Mehmet Nimet Sevim, Ramazan İmir, Ekrem Yapıcı, Mohamad Ghaderi, Ayvaz Ece, Kerem Solhan and Agit Ural.