Demonstration against PKK ban in Berlin accompanied by police violence
The demonstration against the PKK ban in Berlin was accompanied by police violence from start to finish. The organisers assume that images of violence were meant to be produced in order to delegitimise their demands.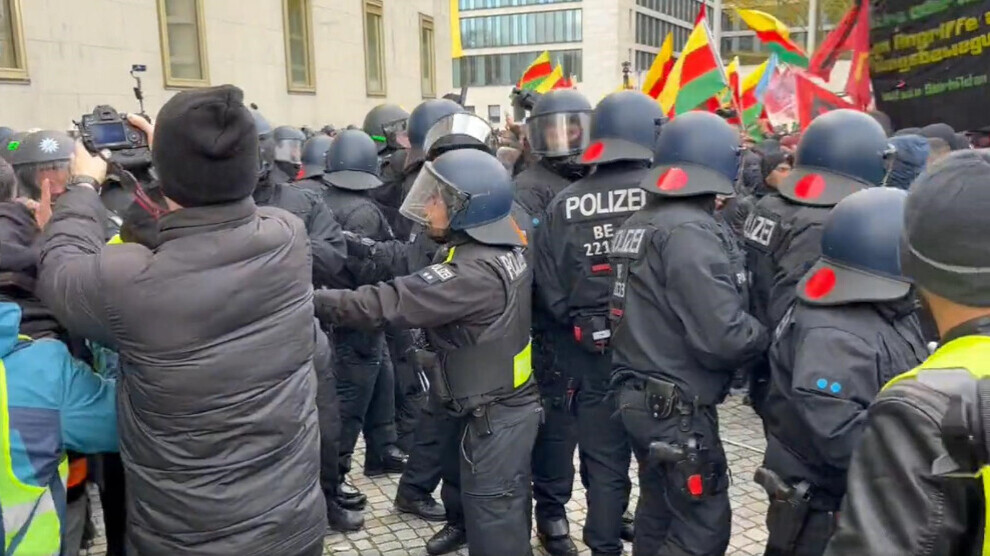 The demonstration against the ban on the PKK's activities in Berlin was accompanied by massive police violence. According to the organisers, up to 6,000 people from all over Germany took part in the "Lift the PKK ban - strengthen democracy" demonstration. The rally, which was called by numerous organisations, was directed against the ban on the Kurdistan Workers' Party (PKK) operating in Germany, which has been in place for almost 30 years. The participants demanded, among other things, an end to the repression and criminalisation of Kurdish organisations in Germany. At the same time, they protested against Turkish President Erdogan's visit to Berlin yesterday and the German government's silence on the war in Kurdistan.
The organisers issued a statement on the course of the demonstration and condemned the police violence: "The demonstration was accompanied by numerous repressive and violent police operations. Already at the opening rally at Oranienplatz from 11am, a few people were detained for allegedly displaying banned symbols or shouting slogans. The police ignored offers of co-operation from the demonstration leaders and repeatedly intervened provocatively in the demonstration. In addition, Kurdish-looking people in particular who wanted to take part in the demonstration were subjected to bag and ID checks. This procedure was clearly racial profiling by the police.
While the police repeatedly entered the crowd at the Humboldtforum during the demonstration march towards Schlossplatz in order to pull individuals out, the situation escalated at times at the location of the final rally. This led to scenes in which the police entered the crowd and beat demonstrators indiscriminately. The organisers made visible efforts to de-escalate the situation and formed human chains between the demonstrators and the police. Nevertheless, further detentions were made during the final rally and at the end of the demonstration.
We condemn the violence that was unleashed by the Berlin police today. We made great efforts to demonstrate peacefully against the ban on PKK activities in Germany and Erdogan's visit. But the police obviously wanted to produce images of violence in order to delegitimise our demands. We would like to thank all the participants in the demonstration who did not allow themselves to be provoked and peacefully stood up for our demands."