Demos in Luxembourg and Giessen for Rojava
Demonstrations were held in Luxembourg and Giessen to mark World Rojava Day.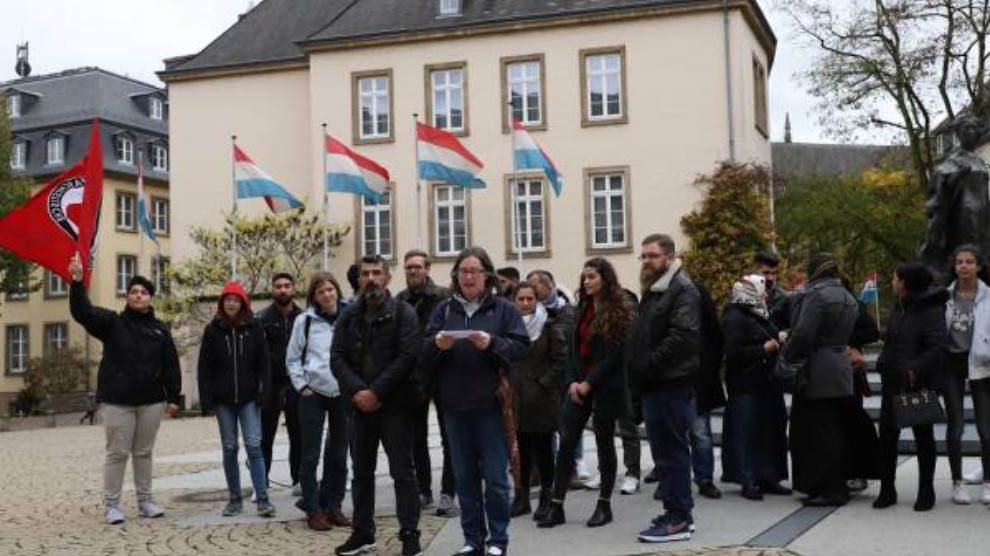 Demonstrations were held in Luxembourg and Giessen to mark World Rojava Day.
LUXEMBOURG
A press release was organized in Luxembourg to mark World Rojava Day.
The press release was read where the Ministry of Justice and the Ministry of Foreign Affairs are loctaed. Die Linka MP Jean Larock and DSC2 DIEM25 party spokeswoman Catherine Dunne addressed the crowd.
Die Linke MP Larock said the Kurds should not be left alone and that the world should support Kurds as they owe them for the fight against ISIS.
Larock reminded that a hundred years ago the Armenians were left in the hands of the Turks and it was a massacre. "The same massacre - said the MP - is about to happen if we leave Kurds in the hands of Turks."
 
Catherine Dunne, party spokesperson for DSC2 DIEM25, said that the Kurds had gone through a historical process and added: "As we celebrated the 1 November, Kobanê day, the Turkish state and its mercenaries are carrying out massacres against the Kurds. On behalf of my party I want to say that the Kurds are not alone. Together we will leave these bad days behind. The Kurds served humanity with their struggle. Unfortunately, the Kurds in Rojava have been betrayed. The Kurds developed a model that would set an example for the Middle East through the struggle they developed."
GIESSEN
World Rojava Day was marked in Giessen with a demonstration. Around 2 thousand people joined the demo in Berlinerplatz. The PYD Committee representative addressed the crowd.