Erdogan regime walks back on the Brunson case
Turkish judiciary has walked back on the case of Pastor Andrew Craig Brunson, which has caused great tension between Turkey and the US. Pastor Brunson was released from house arrest and his travel ban was lifted.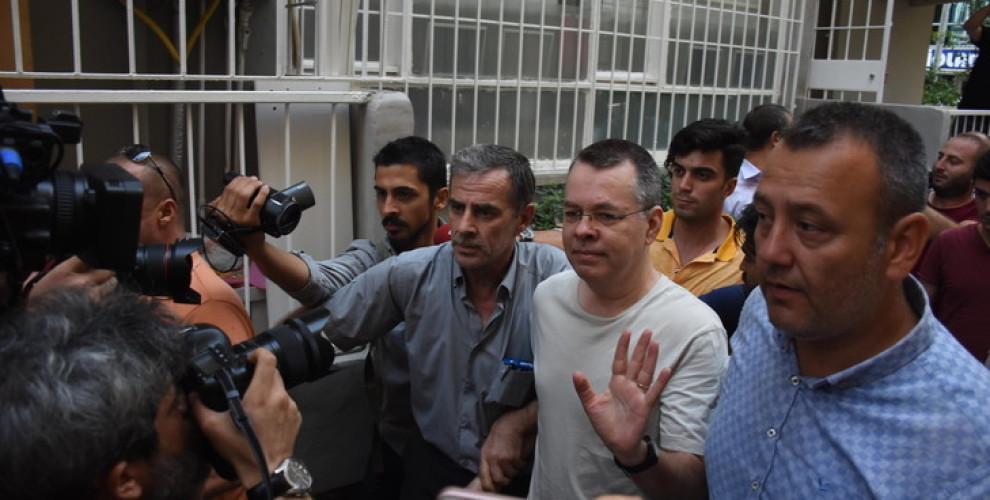 The hearing for Pastor Andrew Craig Brunson was held in the Izmir High Criminal Court No.2 on Friday.
Brunson was accused of having ties with both the Fethullah Gulen movement, former allies of the Erdogan regime, and the Kurdistan Freedom Movement/PKK. There were also allegations of espionage in the case which called for 35 years in prison for Pastor Brunson.
Pastor Brunson had been released from prison and put under house arrest. He has been in 4 hearings. Acting US Ambassador in Ankara Jeffrey M. Hovenier was present in the final hearing.
In the morning session, "witnesses" the Turkish judiciary produced, Busra, Levent Kalkan and Serhat, withdrew their testimony against the pastor.
How these "witnesses" were procured, why they testified against the pastor and why they withdrew the testimonies later on remain unexplained.
The prosecutor called to lift the judiciary restrictions against Brunson, who had been under house arrest for the last 2.5 months.
The court issued a 3 year 1 month 15 day sentence for Pastor Brunson, and ruled to lift his house arrest and foreign travel ban. Brunson's time in prison was counted as time served, and he was released.
"IT IS THE COURT'S DECISION"?
The verdict came after US media alleged that the Ankara and Washington administrations had "reached an agreement on the release of Pastor Brunson".
NBC had said that details on the agreement Turkey and the US reached were not clear but included the release of Brunson in exchange for a loosening of financial pressure against Turkey.
In a statement Erdogan made on September 26, he argued that Brunson's case was a "legal matter" and that he "(doesn't) know what the court will decide, politicians have no say in the verdict."
Erdogan continued to argue that the judiciary is not under his control and is "independent". He said, "As the President I have no right to order (Brunson's) release. Our judiciary is independent. Let's wait and see what the court decides."
THE US SENT THE SIGNAL
Hours before the hearing started, a US official signalled that Brunson would be released. US Secretary of State Mike Pompeo spoke in the Jewish Institute of National Security of America's (JINSA) annual dinner and said, "That is the right thing to do. What Turkey needs to do is a humanitarian thing. I am very hopeful that Pastor Brunson and his wife will be able to return to America very soon." When asked what Brunson's release would mean for the relationship between the US and Turkey, Pompeo said: "It is an important step."