"Europe's inaction left no alternative other than hunger strike"
"Failing to meet our demand, we will certainly not end our strike. We are adamant to keep on this until the very last minute. Death is not in a position to scare us away from our protest."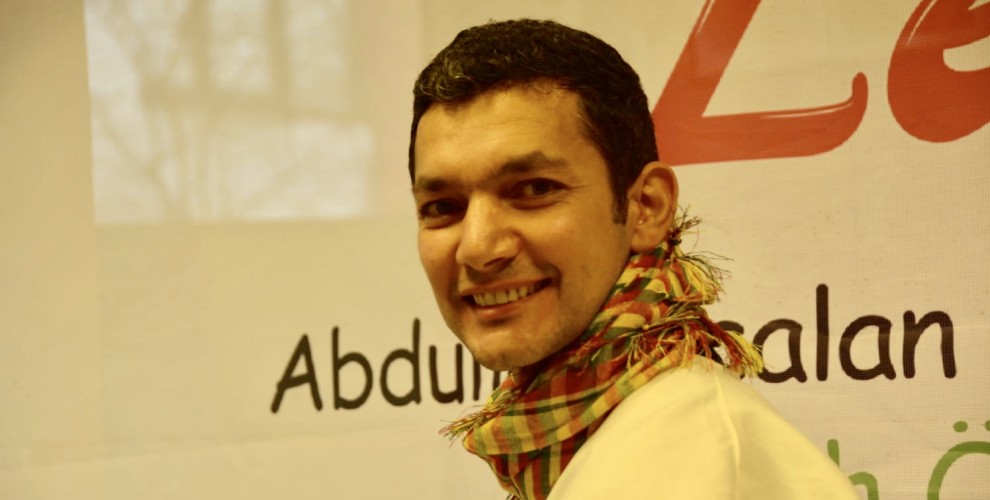 A hunger strike is an act of civil disobedience carried out against injustice, oppression and/or tyranny. It is a simple act, for it requires no significant amount of resource mobilisation. Anyone can undertake it without requiring a lot of resources at hand. At the same time, it constitutes a serious act which requires an immense amount willpower and determination and a noble cause worth dying for.
As a group fifteen Kurdish political activists including an academic, a journalist and an MP, we launched an indefinite hunger strike on 17 December 2018 in Strasbourg. The aim of this action is to end the ongoing, inhumane isolation the Turkish state has imposed on the Kurdish leader Abdullah Ocalan.  
Kept in a solitary confinement at Imrali Island Prison since 1999, Ocalan is not a simple political prisoner. Firstly, and most importantly, he is a political figure revered by millions of Kurds as their rightful leader, who dedicated his entire life to their emancipation from the brutal, modern colonialism practised by Turkey, Iran, Iraq and Syria. Secondly, he is a political theorist who has contributed to philosophy on various issues ranging from state to civil society. It was his political philosophy that gave shape to what we see now in Rojava; a democratic, multi-cultural and feminist society that has been admired by all progressive forces in the world. Thirdly, he has been the most vocal politician in Turkey urging for peace and a democratic solution to the Kurdish conflict. Under his command, the PKK since 1993 have declared eight unilateral ceasefires. In two occasions, moreover, Ocalan ordered PKK fighters withdraw from Turkey to northern-Iraq in order to open the path to peace. To silence a political figure such as Ocalan is to silence the only voice for peace in Turkey.
Objectively, the aggressive military approach continuously pursued by the Turkish government throughout the last several decades has consistently proved futile. If Turkey could solve the Kurdish issue militarily, it should have done so in the 1980s, or even earlier, not now. 
Inspired by Ocalan's philosophy and organised by the movement he leads, PKK, the Kurds are increasingly gaining more power and influence that would in no way be eradicated as the Turkish has state aspired to. The Kurdish movement, through its determination and progressive philosophy has reached people from all backgrounds and won allies from all parts of the globe. The very act of hunger strikes taking place in Kurdistan and abroad all point to the exceptional level of organisation the Kurdish communities have reached.
The first indefinite hunger strike was launched on 7 November by Kurdish MP, Leyla Guven, in Turkey's prison. In no time, it spread outside the prison walls, reaching four parts of Kurdistan and Europe.
The demand of the hunger strikes, including ours here in Strasbourg, is the same. It is simple and practical. In fact, it is shameful that in modern world you have to undertake such an extreme act of defiance to make the simplest demand met. Moreover, it points to the crisis of democracy and the loss of humane values the West is grappling with now.
One may rightfully ask, why would you put your life in danger for a simple demand? The answer is simple and straightforward: Europe's indifference towards the Kurdish issue in general and the Ocalan case in particular, have left us with no alternative.
This is a direct result of Europe's inaction. The continued failures of its institutions, such as the CPT and the Council of Europe, to carry out their duty which are forcing its citizens to embark on such a fatal course.
European institutions have in the past played a very constructive role in the resolution of ethnic conflicts around the world. For example, the EU worked hard for the resolution of the Northern Ireland conflict. Without EU support the conflict would not have been resolved. The OSCE, moreover, actively engaged itself in the resolution of Nagorno-Karabakh and the Balkans conflicts. When it comes to the Kurdish case, however, they do openly side with the violent Turkish state that is bent on the rejection and annihilation of Kurdish identity and cultural heritage. The best example of this ominous alignment with Turkey is the criminalisation by the EU of the Kurdistan freedom movement. Despite objection by Belgian Supreme Court and European Court of Justice, the EU continues to keep the PKK in its list of terrorist organisations. This has evidently emboldened the Turkish state to press on its militaristic approach towards the Kurds and their leader, Abdullah Ocalan.
In this occasion, nonetheless, our demand is not so much for the EU to respect the rule of law and execute the verdicts issued by the European legal institutions and delist the PKK. It would certainly be regarded either excessive or impractical from EU perspective. Our demand is both simple and practical. We demand an immediate lift of isolation imposed on Ocalan and an observance of Ocalan's right to regular visits by his family members and lawyers.
Failing to meet our demand, we will certainly not end our strike. We are adamant to keep on this until the very last minute. Death is not in a position to scare us away from our protest. We understand that in this world, we as humans are accountable for the world we live in. We as humans, together have the power to decide what that world looks like. We choose to not to accept the global retreat from democracy. We choose to not simply draw the line but to push back against the deafening silence and indifference to inhumanity.
Needless to say, the responsibility for any fatality falls on CPT and the Council of Europe in particular, and other European institutions in general. It will surely go down in history as a black stain on Western democracy and it will of course have serious ramifications for Europe where sizable Kurdish and Turkish populations co-exist. To avoid this, we do hope that the European institutions, fulfil their responsibility to save lives on their territory, to hear the calls of their citizens, to uphold their duty to defend human rights and to help lift the isolation imposed on Ocalan.
---
[i] Kardo Bokanî holds a PhD in political theory and is an expert on the Kurdish issue. He taught political theory/philosophy at University College Dublin (UCD). He is author of the book "Social Communication and Kurdish Political Mobilisation in Turkey".