German Foreign Minister criticises Turkey's planned invasion in northern Syria
Foreign Minister Annalena Baerbock criticised Turkey's military intervention in northern Syria. During her inaugural visit to Istanbul, she warned that further clashes could prepare the ground for a strengthening of ISIS.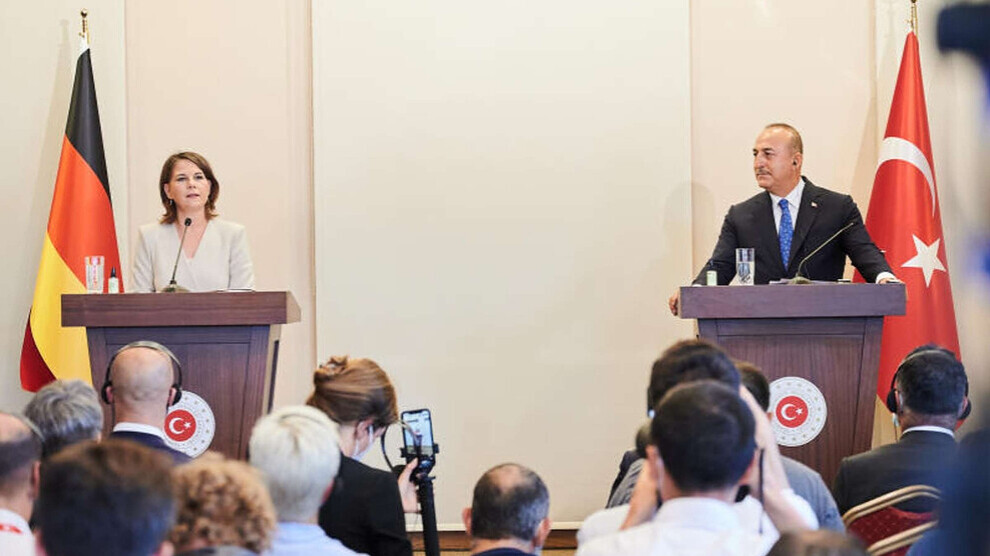 Germany's Foreign Minister Annalena Baerbock (Greens) spoke out against a further invasion of northern Syria by the Turkish state during her inaugural visit to Turkey. We know that Turkey is threatened by "terror", and, of course, the right to self-defence applies to everyone, Baerbock said on Friday at a joint press conference with Turkish Foreign Minister Mevlüt Çavuşoğlu with regard to the previously mentioned "fight against the PKK". However, international law also sets narrow limits to such a right. A right to retaliation or abstract preventive attacks are not included. "And from the German government's point of view, this also applies to northern Syria," said Baerbock.
The suffering of Syrians would be made even worse by a renewed military conflict, the Foreign Minister continued. At the same time, she said, new instabilities would arise, which would only benefit terrorist organisations such as ISIS.
Baerbock's Turkish counterpart Çavuşoğlu did not accept this argument. "First of all, this is not a military conflict, because a military conflict is between countries and armies," said the AKP politician in his usual manner. Rather, he said, it was an "operation against terror". Turkey expects not only words from allies, but support in this fight, he added.
In the past, Turkey has repeatedly acted against the self-governing territories in the majority Kurdish north of Syria in violation of international law. In the course of three wars of aggression in 2016, 2018 and 2019, large parts of the border strip were occupied by the Turkish state and jihadist allies of the NATO member country, and hundreds of thousands of people have been displaced. Instead of the ancestral population, Islamist militias from all over the world were settled in their place under Turkish aegis.
Ankara legitimises its neo-Ottoman expansionism in northern Syria with the "protection of Turkey's national security" from the "terror of the YPG" - the West's most important partner in the fight against ISIS. Meanwhile, largely ignored by the West, the ethnic cleansing of the Turkish-occupied areas of northern Syria continues unhindered. In the former canton of Afrin, the Kurdish share of the population has fallen from around 95 per cent before the Turkish jihadist occupation in 2018 to around 15 per cent. Since May, Turkey has been threatening to invade northern Syria again.