HDP deputies Günay and Paylan meet Mothers of Plaza de Mayo
HDP Mardin MP Ebru Günay and Amed MP Garo Paylan are on a tour in Latin America.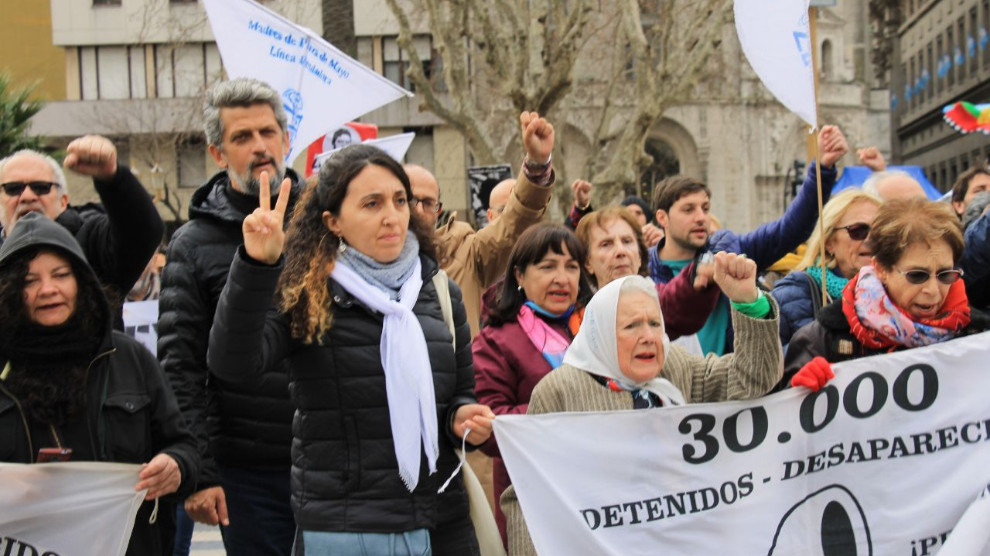 HDP deputies Ebru Günay and Garo Paylan met with the Mothers of Plaza de Mayo in Argentina.
During the march that takes place every Thursday in Plaza de Mayo, Günay and Paylan greeted the members of the Mothers of Plaza de Mayo, and then walked with Nora Cortiñas, of Mothers of Plaza de Mayo - Founding Line.
At the end of the march around the square, Nora Cortiñas gave a speech in which she denounced the critical social and economic situation Argentina is going through these days.
Cortiñas denounced the policies of the government of President Mauricio Macri and summoned the people to remain in the streets and defend their rights.
Nora Cortiñas welcomed Günay and Paylan and demanded the freedom of Kurdish leader Abdullah Öcalan, imprisoned since 1999 in Imrali.
When addressing the public, Günay said that we all "have something in common in the world, and that is the suffering of mothers. But there is also a common solution for pain, which is to build a peace to avoid that pain."
Günay added: "All mothers, from Kurdistan to Argentina, are carrying out an enormous resistance which serves to build peace."
The vanguard of this resistance in Turkey and Kurdistan, said Günay is headed by the Peace Mothers and the Saturday Mothers, "who had their sons and daughters disappeared or killed by the Turkish State."
At the end of her speech Günay handed Nora Cortiñas a scarf sent by the Mothers of Kurdistan.
For his part, Garo Paylan greeted the Mothers of Plaza de Mayo and said that he was "a son of the Armenian people massacred by the Turkish State, in a genocide that is still visible."
Paylan added: "If we cannot reach a fair justice, the genocides and massacres will be repeated. What happened a hundred years ago with the Armenian people could happen again with the peoples of Turkey. But despite oppression and repression, we continue to fight and resist."
Paylan continued: "I bring you the greetings of the Saturday Mothers in Istanbul. We believe that the resistance of the Mothers will break fascism (in Turkey)."