HDP deputy Dündar: Trustees won't be accepted
Following the seizure of the HDP-led Kızıltepe Municipality (Mardin), party members held a press conference in front of the town hall.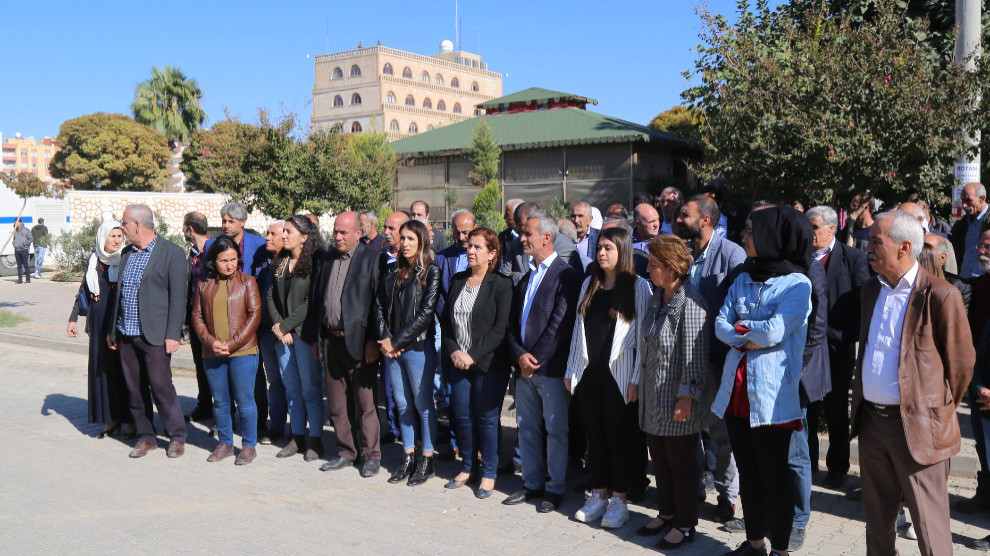 Kizıltepe Municipality co-mayors Nilüfer Elik Yılmaz and Zeyni Ipek, joined the press conference together with members of the municipal council.
Co-chair Yilmaz said that with the appointment of trustee to the municipality the will of people was once again usurped by the AKP-MHP alliance.
'Kurdistan won't fall!'
HDP Mardin Deputy Pero Dündar drew attention to the 4 November political coup, three years ago, which led to the arrest of dozens of HDP members and executives, including the then party's co-chairs.
"The coup - said Dündar - happened 3 years ago but it continues today. This coup is a political coup. We do not recognize this government. We do not recognize the trustees." 
Stating that the appointment of trustees stem from the frustration of the AKP-MHP when they attacked North and East Syria, Dündar reminded of president Erdoğan's remarks, 'Kobanê fell or will fall' and said: "Kobanê fell or will fall, they said, but Rojava did not fall. The government is trying to take revenge for this on the municipalities. But as Kobanê did not fall, as Rojava did not fall. Kızıltepe won't fall, Mardin won't fall, Nusaybin won't fall, Van won't fall, Diyarbakır won't fall. Kürdistan won't fall. This government should give up these dreams. Forget these dreams. This dream will not be fulfilled. This dream will be buried under the ground." 
Dündar said that the government has not yet responded to the destruction caused by the trustees that replaced the DBP municipalities. "From the Minister of the Interior to the other ministers, they all fed on this theft. They want this robbery to continue."