HDP MP on hunger strike: My demand is the demand of millions
"I am on the 20th day of the hunger strike. An action I began on my own free will. I am willing to be doing something against the isolation regime that I think is a crime of humanity. I know this is the demand of millions."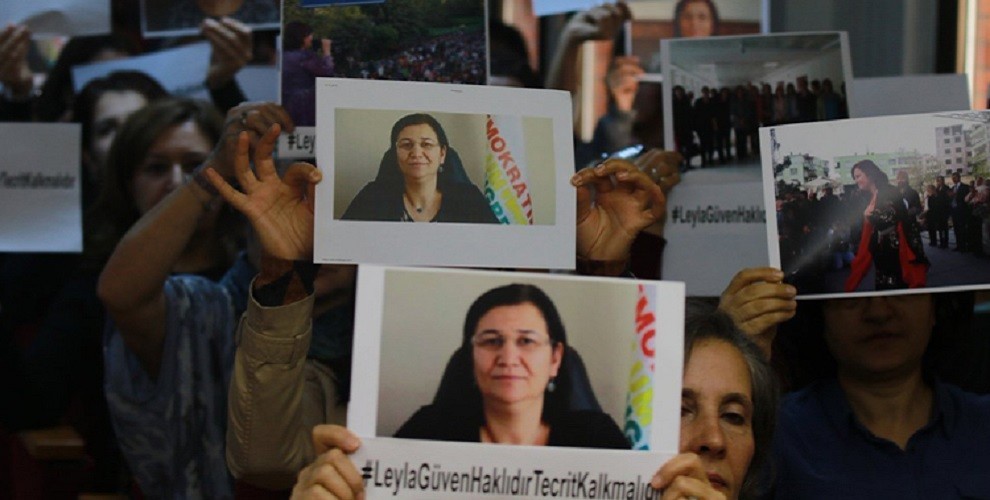 HDP (Peoples' Democratic Party) co-chair Sezai Temelli read the message that jailed HDP MP for Hakkari, Leyla Güven has sent.
Temelli read the message at the party's weekly meeting. The HDP deputy has been on hunger strike for 20 days calling for an end to the isolation regime imposed on Kurdish People's Leader Abdullah Öcalan, which is an isolation imposed on the whole Turkey.
In her message Güven said: "I greet you all with respect in the spirit of resistance of Amed dungeon.
We know that it is possible to build a system in which all identities and beliefs can live freely in these ancient lands that have cradled the birth of humanity. We know that the existing ruling systems only serve their own masters. This is a system that is standing by war and destruction. In order to live in a world without war and without exploitation, we must take strength from our struggle and resistance."
One of the reasons for the current chaos and crisis, said MP Güven, "is the unresolved Kurdish question. We know that the parties trying to solve the problem are ignored. I think that Mr. Öcalan is making a great effort for the democratic and peaceful solution of the Kurdish question. Mr. Öcalan's solution proposals and ideas provide an important perspective not only for the Kurdish question, but also for the Middle East and the world. The construction of the Democratic Nation and the Democratic Confederation System are the cornerstones of the lasting peace that our people have longed for. The total isolation imposed on Mr. Öcalan is precisely the way to hide this truth from society. Human history is full of similar examples. Truth seekers and advocates of truth have paid a heavy price".
Güven ended her message by saying: "I am on the 20th day of the hunger strike. An action I began on my own free will. I am willing to be doing something against the isolation regime that I think is a crime of humanity. I know this is the demand of millions. I would like to point out that the activities developed by our people, especially the women's assemblies and our institutions, are very valuable and meaningful for me. Peace Mothers. Saturday Mothers. I kiss all mothers' hands. I am aware that the days of lasting peace that they struggle for will prevail in these lands. I am a comrade of those who love to die for the sake of life. With these feelings, I greet you all again with respect, I wish success in your work".