HDP's Buldan: Millions demand freedom for Öcalan
HDP Co-Chair Pervin Buldan condemned the airstrikes on Makhmur and Shengal.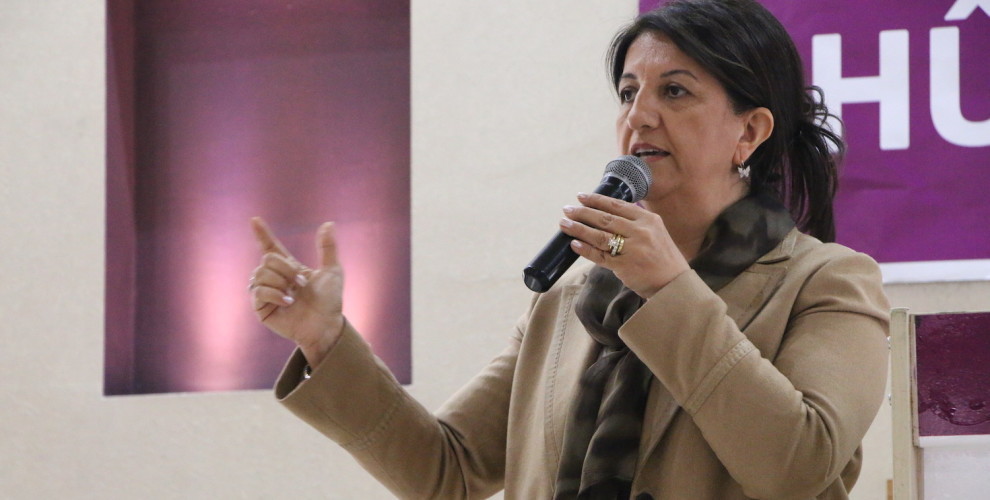 Peoples' Democratic Party (HDP) Co-Chair Pervin Buldan met with people in Ağrı where she evaluated recent developments.
Buldan marked the anniversary of the genocidal attacks, saying: "Three years ago the curfews issued by the State hit our people, in Sur, Cizre, Nusaybin, Şırnak. Today the same way and methods are implemented again and war-mongering, detention, pressures are implemented by the State trying to protect their power."
Shengal and Makhmur attacks
Buldan said: "We will present the bill to this government on 31 March. We condemn the airstrikes on Shengal and Makhmur. The people of Shengal have been resisting the attacks by DAESH mercenaries. The people of Makhmur are living in peace and tranquility."
Buldan continued, noting that there are many hostages in Turkish prisons.
Millions demand freedom for Öcalan
HDP Co-chair pointed out that the hunger strike launched by Leyla Güven demands what millions demand; freedom for Öcalan.
"I want to say that the demand of Leyla Güven, who has been on hunger strike for 37 days, is the demand of millions. This is the demand of those who favor peace and democracy. This demand is for the removal of the aggravated isolation on Mr Öcalan."
We will win in Ağrı
Saluting the co-mayor of the municipality of Ağrı, Mukaddes Kubilay, who is held a hostage in prison, Buldan said: "Kubilay is in prison for no reason. The best answer to theis illegal detention will be given by women."
HDP Co-chair added: "Elections will contribute to the achievement of the freedom of our friends in prison. Each of our elected mayors will contribute to winning the freedom of our prisoners. Each vote will be given to democracy, peace, and freedom. We must definitely win. We have a promise to keep for our friends murdered in Roboski, Zilan, Ankara, Suruç. We will take over the flag they left. We, together, will win the battle for peace."