HDP's Yüksekdağ: Free our Presidential Candidate Demirtaş
Former HDP co-chair said at her trial that HDP will make history in the 24 June elections.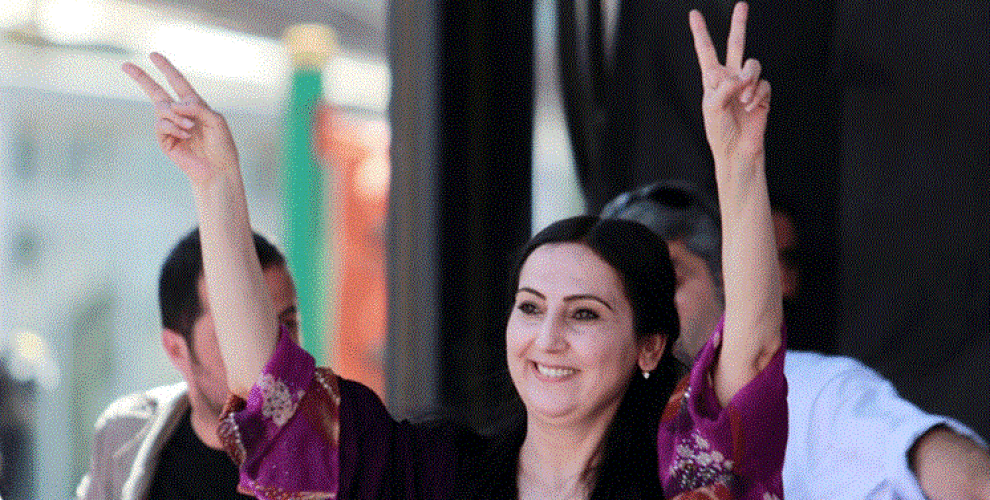 The 5th hearing of the trial against hostage HDP former co-chair Figen Yüksekdağ was held today in Ankara.
The authorities didn't allow in the hearing room the Swedish Ambassador and the international delegation there to observe the trial.
The hearing begun with Yüksekdağ acknowledging the presence of HDP co-chair, Pervin Buldan, deputies and other observers.
Yüksekdağ said:
"At a moment in which the country is going through a critical period, we are prevented from carrying out our duty. It is a crime against our people and voters to prevent us from doing our duty. This crime belongs to the ruling power that interferes with the judiciary.
Unfortunately, this political power, which blamed us for disrupting public order, is the one that caused the greatest damage to public order by breaking the normal social structure.
They detained us so to leave us outside politics. They won't ever succeed. Today, our friend Selahattin Demirtaş is at the center of the political scene.
For a year and a half the power has tried to eliminate us. Yet today, Selahattin Demirtaş is a candidate to the presidency of the Republic. And tomorrow he may well be president.
Our voice is echoing in Amed, Van, Istanbul, Rize, Antalya. We are the voice of pluralistic democracy. You can imprison us, but you cannot imprison this reality.
We still have hope. They think we lose hope if they arrest us. We are still standing. You can arrest as but we will not give up the will of the people.
How can you force an election in these conditions? Up to today, 11 MPs have been stripped of their status. Despite this they are still saying to the people, go and vote, chose your candidate, but of course "if I don't like him/her I could strip him/her of his/her status".
This political power is not happy with the good things and democracy in the country, which is why it makes war. It doesn't want a democratic and free election in the country. Because it knows that if there is a democratic election, we will win together. The AKP will lose. For this, Selahattin Demirtaş is kept in jail.
Of the six presidential candidates only Selahattin Demirtaş is not free to run his election work. The detention of Demirtaş is a shame in the history of this country.
I never asked to be free. I won't ask it today. But I do ask for Selahattin Demirtaş to be freed.
We will show our freedom in the election squares. Despite the over 5,000 prisoners, the HDP will still have a strong presence on 24 June.
HDP is the key party on 24 June. We can open this lock together, you can open a door to a bright future for this society.
We as all peoples who believe in the future of this country will take away our own lock, open our own door ourselves.
If I am being tried as a co-chair in the courtroom, how will my party be able to run a free election work?
I am saluting all my party members. They have come so far and will go even further, no matter the difficulties and obstacles.
There's nothing they have not tried, they are trying with the electoral threshold, this old antique museum piece that prevents Turkey to be democratic. We will overcome that threshold.
They still hold that threshold for the HDP but we will overcome it again. Make sure of that.
The gap of injustice has deepened. We have been in jail for over 18 months, we have seen all type of irregularities."