Hearing of HDP's Demirtaş held in Istanbul
The trial for former HDP Co-chair Selahattin Demirtas was heard today. Demirtas saluted Leyla Guven, who is on a hunger strike, and the court ruled for lack of jurisdiction, sending the case to the Istanbul Criminal Court of General Jurisdiction No.2.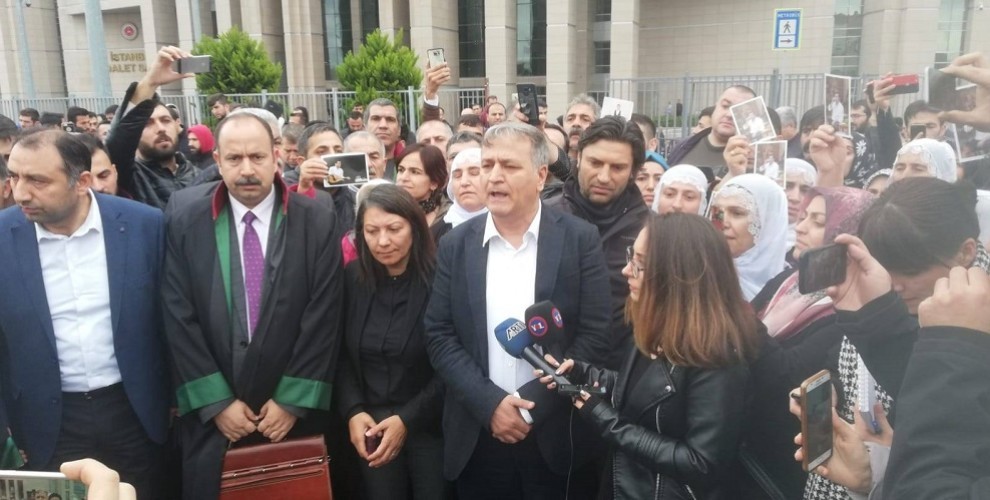 The hearing of former HDP Co-chair Selahattin Demirtas, held hostage in the Edirne Type F Closed Prison, for allegedly insulting the then-Prime Minister Ahmet Davutoglu in 2015 was held in the Istanbul Criminal Court of General Jurisdiction No.47. HDP MPs Mahmut Togrul, Ali Kenanoglu and Dilsad Canbaz, as well as HDP provincial and district administrators, Libertarian Lawyers Platform (OHP) and members of the public were present in the hearing. Demirtas attended the hearing through the video conferencing system SEGBIS.
REACTIONS AGAINST THE JUDGE
The hearing started with an argument between the lawyers and the Court Judge Bekir Nabi Celen. Celen told some of the audience to go out and the MPs to sit at the back seats. HDP MP Mahmut Togrul said he is a MP, and that there are no seats in the back. Court Judge Celen said, "You may be a MP, but you will sit in the back" and Lawyer Firat Epozdemir said, "You wouldn't be able to do that if it was an AKP MP here. They would send you away the next day."
JUDGE ANNOUNCES VERDICT BEFORE THE HEARING
Before the hearing started, the Court Judge said he would rule for lack of jurisdiction. As Demirtas was citing his address for the record through SEGBIS, the Court Judge asked "Is it an apartment?" and Demirtas answered, "Yes, a flat. Not a palace."
DEMIRTAS SALUTES LEYLA GUVEN
Demirtas saluted HDP MP and DTK Co-chair Leyla Guven, who launched an indefinite hunger strike in prison to protest the Imrali isolation.
Demirtas's lawyer Ercan Kanar demanded that the judge withdraw from the hearing.
THE AUDIENCE THREATENED
When the crowd outside and the audience started chanting, "President Selo" and "Political prisoners are our honor", Judge Celen threatened them and said, "You want the police to come in here and you become victims."
THE VERDICT: THE CASE GOES TO COURT THAT HANDLES MEDIA CRIMES
Judge Celen ruled that Demirtas's comments that are the subject of the case have been taken from news agencies and thus the jurisdiction is at the Istanbul Criminal Court of General Jurisdiction No.2, which deals with media crimes.
TOGRUL: WE WON'T BOW DOWN
After the hearing, hundreds of people exited the Istanbul Court House in Caglayan chanting slogans. HDP MP Mahmut Togrul gave a statement in front of the court and said, "We see that the AKP-MHP alliance wants to turn the judiciary in this country into a sword above the heads of the opposition. Our co-chair who has been held hostage for over 2 years, our mayors, our co-chairs have been taken hostage to remove the HDP from the political arena. But we take as our motto today the words of Seyit Riza, who was sent to the gallows 81 years ago, we will not bow down."
LAWYER EPOZDEMIR: THE COURT IS ACTING IN A POLITICAL MANNER
Lawyer Firat Epozdeir spoke about the unlawful nature of the case. Epozdemir pointed out that the court is acting in a political manner and mentioning the transfer verdict, said: "It was seen as a problem that would affect public order that the people in Diyarbakir support Mr. Selahattin Demirtas."