Hunger strike in Strasbourg on day 43
Solidarity with Kurdish hunger strikes against the isolation of Kurdish People's Leader Abdullah Öcalan is growing.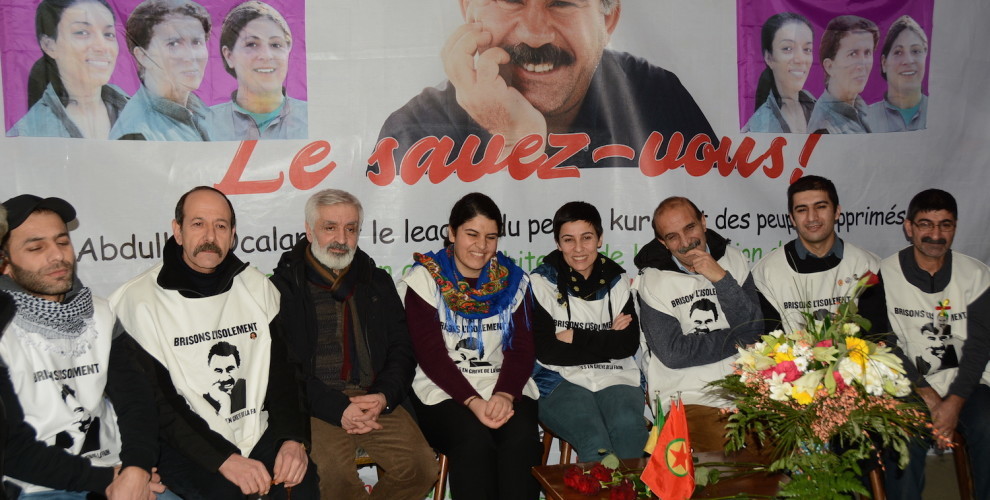 KCDK-E co-chair Yüksel Koç, former deputy Dilek Öcalan are among the 14-strong group of activists on hunger strike in Strasbourg.
The hunger strike, vowed activists, will go on until the isolation against Öcalan is lifted.
Activists are visited by many executives and patriots. Among the last visitors were Yazidi, HDK and the Democratic Alevi Federation (FEDA). The President of the Kurdistan Islamic Party (PIK) Hikmet Serbilind and sociologist Kadir Amaç also came to see the activists.
Call from Yazidis to claim hunger strike
A group from the Yazidi Association from Aachen-Verden, told hunger strikers that their determination will eventually prevail.
Speaking on behalf of the delegation, Cemal Cemal, commended hunger strikers beginning with Leyla Güven, and emphasized that they are also part of this resistance.
Cemal said to be sure that the determination of the hunger strike resistance will lead to success. He added that the isolation is imposed not only on Öcalan but on all Kurdish people.
Cemal said to be sure that isolation against Öcalan will be lifted and called on all Kurdish people to join the resistance.
Canê Kobanê, who spoke on behalf of Jinên Ciwanên Azad, said that the action led by Leyla Güven was the struggle of the free Kurdish women. Kobanê called on everyone to stand up and underlined that the people should be involved in the resistance process whichever way they can.
Efe Tosun, speaking on behalf of the delegation from the Kurdistan Democratic Society Center in Paris, said that the morale of the protesters was high and that this also gave them morale.
Aziz Uzpak said that this resistance is carried out in the name of all mankind: "We have no doubt that this struggle will succeed."
Support by Trade Association
Hüseyin Bildik from Pazarcık Association, said that the resistance initiated by Leyla Güven in the same prison, Amed, where Kemal Pir and Hayri Durmuşlar resisted fascim, meant the revival of that resistance.
Bildik, who said isolation cannot be accepted, called on anyone to join the actions against the Turkish fascist-chauvinistic system.
Journalist Sait Öztürk said he would like to see more involvement in the resistance and stressed more actions were needed.
More actions needed
The hunger strike launched by Leyla Güven and followed by activists in prisons and Strasbourg was commended by sociologist Kadir Amaç.
He called on Kurdish politicians and intellectuals to take action, and stressed that the freedom of Öcalan is important.
HDK-Germany: Isolation is targeting peoples in Turkey
Speaking on behalf of HDK-Germany, co-chair Ali Mitel said that ongoing hunger strikes should be treated as a front of resistance.
Mitel pointed out the urgent need for peace for the peoples of the region and emphasized the importance of breaking isolation against the peoples.
Hunger strikers in Strasbourg were also visited by Alevi Cultural Center in Bruchsal, Germany, as well as executives of the Swiss Democratic Alevi Federation (FEDA), Songül Çelik and Ali Sidar.
Furthermore, Kurds from many cities of Germany, France and Switzerland came to Strasbourg in groups to salute hunger strikers