Hunger strikers at Strasbourg rally: We will break the isolation
Strasbourg hunger strike activists who have joined today's rally stressed that; "No matter the price, we will break the isolation and defeat fascism".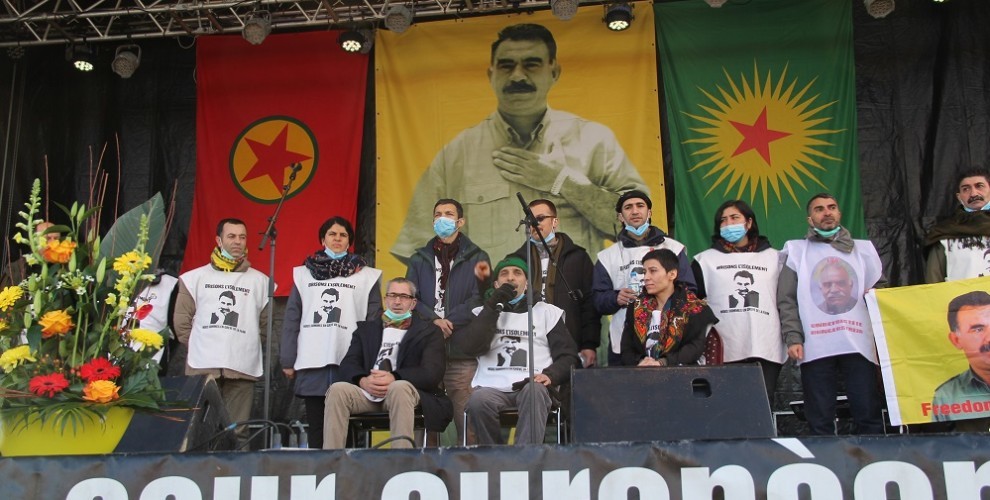 A central rally was held in the French city of Strasbourg on Saturday to mark the 20th anniversary of the international conspiracy that led to the arrest of Kurdish People's Leader Abdullah Öcalan on February 15, 1999.
14 Kurdish activists who have been on hunger strike in Strasbourg for 62 days, also joined the rally. The activists took to the stage amid slogans "Long live our freedom resistance" and "Biji Serok Apo" [Long live Leader Öcalan].
Journalist Gülistan Ike spojke first on behalf of the hunger strikers and stressed that the international conspriacy will not achieve its goal. Saluting HDP MP Leyla Güven and other Kurdish activists on indefinite hunger strike, Ike said; "We believe that the isolation will be broken and we resist with this faith. Even if our bodies melt away, we will continue the resistance until the isolation is broken."
Ike said this was the "resistance of the century" and added; "To stand with Öcalan is to stand with human dignity. This resistance led by women will achieve victory."
Speaking after, another hunger striker, KCDK-E co-chair Yüksel Koç started his words by saluting the Kurdish leader in Imralı and said the following; "This isolation is imposed on not only Leader Apo but entire Kurdistan. In the person of the Leader, it targets the four parts of Kurdistan, Kurds abroad, democrats, opponents and peoples of the Middle East. An annihilation war is being waged against us, all of us. We have two paths to choose; surrender and submission or a free life. Leader apo represents the freedom of the Kurdish people and women. No matter the price, we will break the isolation. Should we fail, the peoples of Kurdistan and the region will not be able to stop the genocidal politics. We can only stop it by breaking the isolation. With the spirit of Kemal, Hayri and Akif who defeated the Turkish fascism in 1982, we will defeat Erdoğan and his fascism through the resistance led by Leyla Güven today. If a price is needed to this end, we are ready to pay it."