International Imralı Delegation visits activists in Strasbourg
The delegation wants to meet with Kurdish People's Leader Abdullah Öcalan by going to İmralı Island.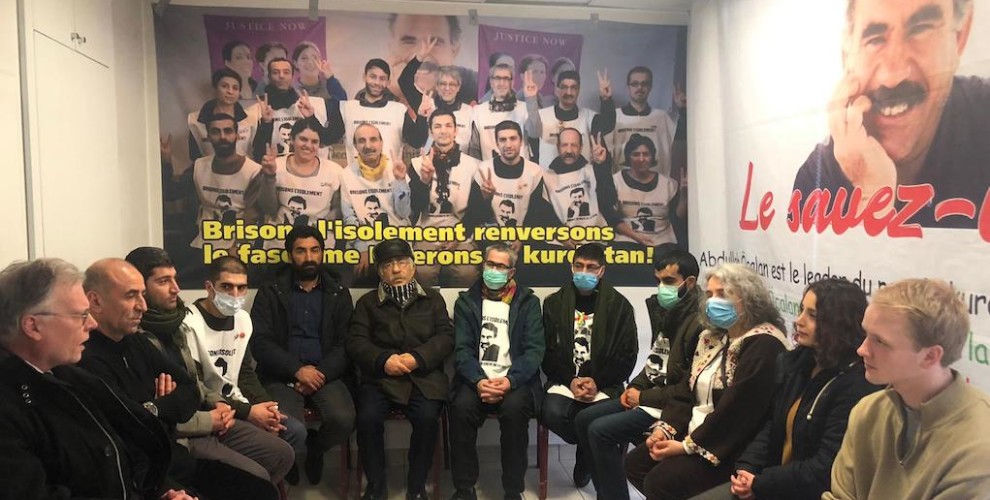 The activity of the International Imralı Peace Delegation starts on Monday.
Before heading to Turkey the international delegation members visited the 14 Kurdish activists on hunger strike in Strasbourg for 56 days.
The delegation included former Minister of Justice and historian Ögmundur Jonasson, US philosophy student Connor Hayes, activist Diyar Kerim from England and Havin Güneşer from the Freedom for Öcalan Initiative.
Speaking here, former Icelan Minister of Justice Ögmundur Jonasson expressed his support for the hunger strikers and their action to end isolation against the Kurdish People's Leader.
Stressing that they support the struggle of the Kurdish people, Jonasson added that the Kurdish issue and the isolation against Öcalan have been raised many times in Iceland.
Reaffirming that isolation cannot be accepted, Jonasson underlined that the hunger strikes against it are very determined and bold steps.
Jonasson said that their visit toTurkey is not just to see the issue first hand but also to run a series of meetings, first of all with the Ministry of Justice to try and get a visit with Öcalan.
Present to hunger strikers
Two Öcalan portraits by the Irish painter Jim Fitzpatrick, also known for his Che Guevara's famous black-and-white portrait, were presented to hunger strikers during the visit.
Who takes part in the delegation
Starting on Monday the delegation includes people from many countries and will travel to Turkey.
Members of the delegation are: Iceland's former Minister of Justice Ögmundur Jonasson, British trade unionist Manuel Cortes, Argentine economist and human rights activist Beverly Ann Keene, English jurist Paul Scholey, British actress Maxine Peake, US philosophy student Connor Hayes, British trade unionist Tony Burke, British writer John Hunt and British photographer and director Jonathan Spaull.
A professor who is also part of the delegation is 91 years old, and was persuaded not to travel.
The delegation's agenda for Turkey
The delegation, which has applied to meet with Kurdish People's Leader Abdullah Öcalan and officials at the Ministry of Justice in Imrali, will hold a joint press conference on 12 February at the HDP headquarters after meeting with Pervin Buldan, co-chair of the HDP and former member of the Imrali delegation during the 2015 talks.
On the same day, the delegation will meet with Human Rights Association, Human Rights Foundation of Turkey and Public Workers Unions officials.
The delegation will move to Amed on February 13. They will meet with HDP Hakkari MP Leyla Güven, who is on hunger strike, if conditions are suitable and then will meet with representatives of civil society organizations in Amed.
On 14 February the delegation will meet with Democratic Society Congress, Democratic Regions Party representatives and Peace Mothers.
The delegation will then travel to Istanbul and will hold a joint press conference with Asrın Law Office lawyers.