ISIS member exposes relationship between ISIS and Turkey
Italian ISIS gang leader Semir Bogana (code name: Abu al Muhajir) who was captured by YPG's anti-terror unit YAT as he was trying to flee to Turkey spoke about the dirty relationship between the Turkish state and ISIS gangs.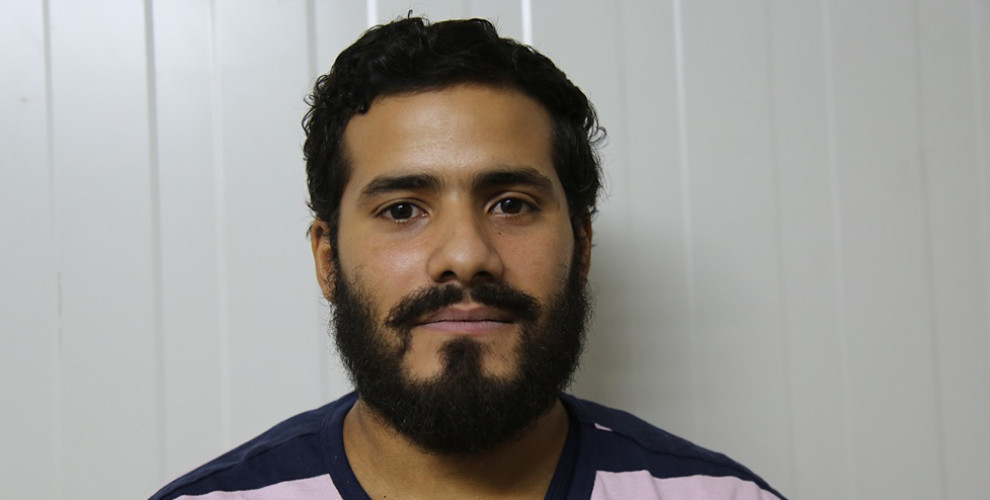 Originally from Morocco, Semir Bogana was born in 1994 in Italy. Bogana's family later moved to Germany and he studied there. Bogana married a Turkish woman he met in Germany. He met some terrorists/gang members in 2011 in Germany and developed a relationship with them. He later met Abu Abdullah Al-Almani, who has ties to the Turkish MİT. Al-Almani suggested Bogana go to Syria and join the gangs. When Bogana agreed, Al-Almani took him to Turkey to cross into Syria together.
WHO IS ABU ABDULLAH AL-ALMANÎ?
Abu Abdullah Al-Almani is a German citizen, also originally from Morocco. He was born in Germany. Al-Almani has ties to both the Turkish MİT and ISIS gangs. He collects and sends aid to gangs under the guise of humanitarian aid in Germany and throughout Europe, and he does it through Turkey.
Gang leader Bogana said he went to Istanbul from the Düsseldorf Airport and then he continued to Antakya. Bogana stayed in MİT camps in Antakya where foreign gang members stay. According to his account, gang members coming to Antakya from abroad stay in special MİT camps and all their needs are met by the MİT. Gangs gathered in these camps are then sent to the Al-Aqrad mountains in Latakia and placed among Jindi Al-Sham gangs.
Semir Bogana also joined the Jindi Al-Sham gangs in Latakia after crossing into Syria and fought against the Baath regime there. That was when he met a group under Abu Omar Al-Almani and joined ISIS.
"ISIS RECEIVES ORDERS FROM TURKEY"
Semir Bogana said they fought against the Syrian Baath regime in Latakia and, adding that the ISIS gang leaders ordered them to go to the north of Aleppo one day and they complied, continued: "They determined our itinerary to Aleppo. So we withdrew from Latakia and crossed into Jarablus through Antakya-Antep. Turkey made our job very easy during this passage. They opened the border, allowed our weapons and ammunition through and facilitated our every need. After we crossed, we were told we would fight against Kurds from then on."
Italian citizen gang member Bogana crossed into Jarablus with support from the Turkish state, and after staying there for a while moved to Deir ez-Zor. He stayed there for a while with the death squads and then went to Raqqa, where he worked in foreign relations for ISIS. His main task was recruitment of new members from Germany and other European countries. The gang was active in the Tabqa and Mayadin region for a while, and took part in the attack against Aleppo's Kueris air field.
ISIS-TURKEY RELATIONSHIP
When talking about the relationship between the Turkish state and ISIS, Abu Abdullah Al Muhajir (Semir Bogana) pointed out the investment the Turkish state made on them: "When we acted in Turkey's name, we faced no obstacles. Nobody once asked us what we were doing or where we were going as we crossed the border time and again. On the contrary, the Turkish state supported us with all kinds of weapons, ammunition and other resources. I saw with my own eyes how the Turkish state moved weapons into the Gire Spi region."
Semir Bogana said Turkey sees Northern Syria as their own land and want to achieve their own goals in the region through ISIS and offer every resource at their disposal to ISIS and other gang groups to have them attack the Kurds. Saying that the Turkish state wants to tear down all gains made by the Kurds, Bogana continued: "The clearest example of this is the support the Turkish state offered us as we were leaving Latakia, and then asking us to attack areas held by Kurds. They wanted ISIS to fight the Kurds more than the Syrian regime. Their goal was to destroy the gains made by the Kurds in Syria through ISIS and other gang groups."
"TURKEY PROTECTS ISIS GANGS"
Bogana continued to relay the relationship between the Turkish state and ISIS: "They told us the Turkish state protects ISIS members. They told us ISIS members could live in Turkey as they wish. A clear example of this was the incident where an Austrian ISIS member who went to Turkey wasn't extradited to Austria. The Austrian government had submitted an appeal for that person. The Turkish state publicly claims that they are putting ISIS members on trial, but that is not true. The Turkish state offers us support, and uses us for their own gain. They send people under us to various countries to create domestic upheaval."
"THE WE-FIGHT-ISIS DISCOURSE IS A LIE"
Bogana said the following on the relationship between ISIS and the Turkish state:
"I always asked myself, the Turkish state publicly says they fight ISIS, so how come they offer us such support? The Turkish state brought us together every time so we wouldn't just fall apart, and then used us for their own gain.
If it hadn't been on the Turkish state, ISIS would never have gotten so big and the Syrian civil war wouldn't have dragged on so much, or gotten so deep. With the start of the Syrian war, the Turkish state started to give all kinds of support to ISIS and other gang groups. They opened the borders to Syria and allowed thousands to cross the border to join the gangs. That pushed the Syrian conflict into a deeper bind. If it hadn't been for this stance by the Turkish state, me and thousands of others like me wouldn't have been able to come to Syria and join these gang organizations. If it hadn't been so, Syria wouldn't have turned into such a dangerous place."