Jineology seminar at the University of Quito in Ecuador
A series of seminars were given in Ecuador to promote Jineology and the Kurdish women's movement.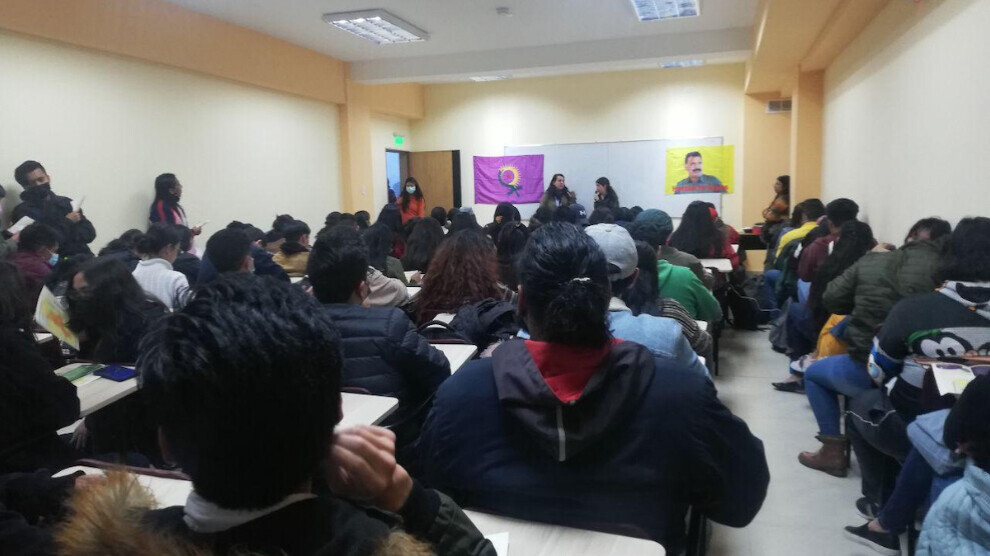 In Ecuador, a series of activities have been held to introduce Jineology (Women's Science) and the Kurdish women's struggle to the people of the country.
After a book fair held on July 13-17, a seminar concerning the educational methods of Jineology and its connection with sociology was given on July 25 at the Faculty of Social Sciences of the Central University of Quito.
Apart from sociology and feminist theory students from the faculty, lecturers also attended the seminar.

The opening speech of the seminar was delivered by sociology professor Andrea Reinoso.
We want to learn alternative educational methods from the experiences of Jineology, said Reinoso, adding that, they, together with the students, had previously read the brochures on the Transformation of the Man prepared by the Jineology Academy. Reinoso stated that they hoped to obtain further information about the practice of Jineology through this seminar.
Zilan Diyar, who made a speech on behalf of the Jineology Academy after the opening speech, first commemorated the YPJ commanders Jiyan Tolhıldan, Barin Botan and Roj Xabur who were killed in a Turkish attack in Rojava on July 22 and invited the participants to observe a minute of silence, after which a documentary about Jineology studies was screened.
Brief information was given on the educational methods of Jineology during the presentation of the Jineology Academy.
The presentation pointed out that Jineology does not promote knowledge for power. On the contrary, it makes knowledge functional in solving social issues and problems.
It emphasized that Jineology works to produce knowledge that would strengthen the foundations of women's revolution, adding that revolutionary movements should fight along the lines of an alternative science.
Following the questions from the students, signatures were collected for the campaign to remove the PKK from the list of "terrorist organizations".