KCDK-E calls for Europe-wide protests for Rojava on Saturday
The Kurdish umbrella organisation KCDK-E calls for Europe-wide protests for the defence of Rojava on Saturday.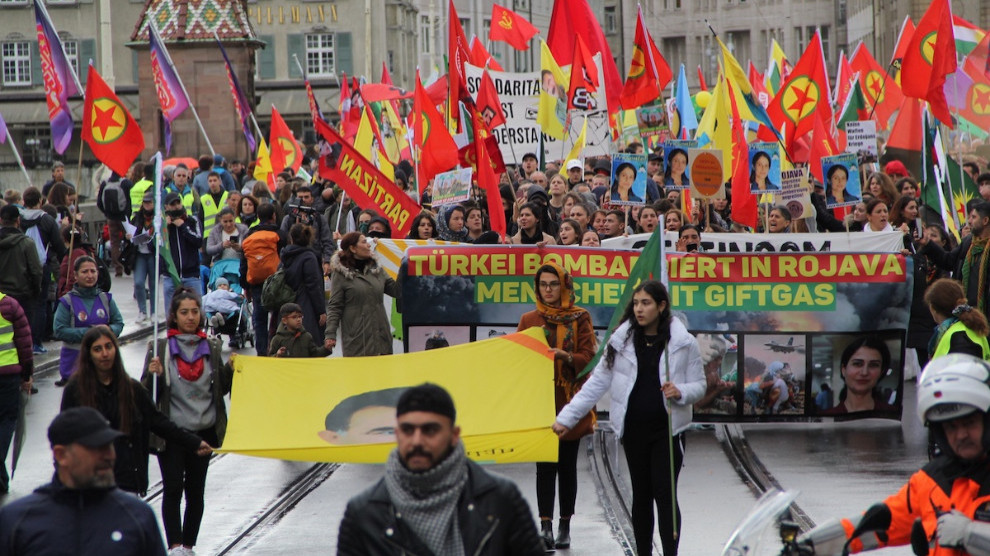 Tomorrow, Saturday (9 November), there will again be Europe-wide demonstrations against the Turkish-Jihadist war of aggression in Northern and Eastern Syria.
The Democratic Kurdish Society Congress in Europe (KCDK-E) calls for solidarity with the people of Rojava who have been resisting the invasion of NATO partner Turkey and its Islamist proxy army for one month. In particular, democratic movements, internationalists, women, youth, intellectuals, artists, leftists and socialists, climate activists, feminists* and peace movements are called upon to participate in the actions for Rojava.
The action plan announced by KCDK-E for 9, 10, 11 November is as follows:
9 November, Saturday
ENGLAND
Manchester
Time: 13.00
Place: St Peter sq M2 5PD
Brighton
Time: 12.30 pm
Place: Outside Churchill Square
***
AUSTRIA
Linz
Time: 18:00
Place: Martin Luther Platz
Graz
Place: Hauptbahnhof
Time: 15 00
Vienna
Place: Opera
Time: 16.00
***
FRANCE
Lyon
Place Bellecour, 15:30
Bordeaux
Maison Ecocitoyen 13:00
Rennes
Place Colombier, 15:00
Marseille
Place Canebière, 15:00
Villers le bel
Gare Arnouville, 14:00
Evry
Evry City Hall, 13:00
Strasbourg
Place de la Gare 14:00
***
SWITZERLAND
Zurich
Place: Rathausbrücke
Time:14.30
***
GERMANY
Stuttgart
Time: 14:30
Place: Lautenschlager Str
Pforzheim
Time: 14:00
Place: Waisenhaus Platz
Heilbronn
Time: 15:00
Place: Bollwerk
Munich
Time: 15:00
Place: Schützenstrasse
Nuremberg
Time: 17:00
Place: Hallplatz Nürnberg
Frankfurt
Time: 14:30
Place: Paulsplatz Frankfurt
Cologne (Massive demo in NRW)
Time: 12:30
Place: Cologne, Hauptbahnhof (Central Train Station)
Kassel
Time: 16:00
Place: Hauptbahnhof
Hannover
Time: 14:00
Place: Am Steintor Platz
Kiel
Time: 16:00
Place: Hauptbahnhof
Bremen
Three groups will stage a march, to be joined by Oldenburg an Hamburg
Yellow Group: Rheinmetal Verdener Str, 14.00
Red Group: Bahnof Walle, 14.00
Green Group: Flughafen Bremen, 14.00
***
DENMARK
Copenhagen
Place: Outside Copenhagen City Hall
Time: 13.00
***
GREECE
Athens
Place: Lavrion
Time: 19.00
***
ITALY
Place: Rome Coleseo
Time :14 :00
***
SWEDEN
Gothenburg
Place: Brunnsparken
Time: 13.00
Orebro
Place: Stortorget
Time: 18.30
Västerås
Place: Sigmatorget, Västerås
Time: 13.00
Helsingborg
Place: Stadsbibliotek
Time: 16.00
***
10 NOVEMBER, SUNDAY
BELGIUM
Brussels
Place: Gare Central
Time: 14.00
***
ENGLAND
London
Place: KCC Haringey, N4 1HU
Time: 16.00
***
AUSTRALIA
Sydney
Place: Town Hall
Time: 14:00
***
11 NOVEMBER, MONDAY
GREECE
Athens
***
NORWAY
Oslo
Place: Trafikkanten
Time: 15:00
Tønsberg
Place: Farmandstorget (Tønsberg Centrum)
Time: 13.00