KCDK-E calls on people to join January 16 demo in Strasbourg
The KCDK-E called on "all international institutions to take action. On 16 January we will be in front of the CPT, Council of Europe, European Parliament to demand these institutions that are playing the three monkeys."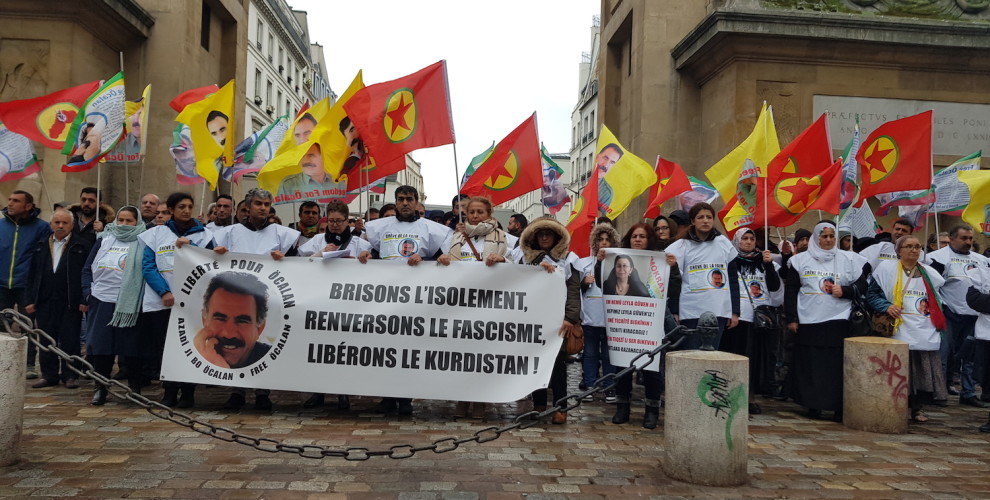 A demonstration will take place on January 16 in Strasbourg to support the hunger strike launched by 14 activists to break the isolation imposed on Abdullah Öcalan.
The demonstration will also call on the European Union and the Council of Europe to act urgently.
The European Democratic Kurdish Society Congress (KCDK-E) released a statement to call on all Kurds and their friends to join the demonstration.
"The international forces trying to shape the Middle East according to their own interests have developed an international conspiracy 20 years ago to get rid of the leader of the Kurdish liberation movement, Abdullah Öcalan, and the democratic nation paradigm, which they saw as an obstacle in front of their projects."
The statement continued: "Thanks to the epic resistance of Leader Apo and the struggle of our people and our friends, this conspiracy has been greatly defeated. The democratic, ecological and women's libertarian paradigm developed by Leader Apo created great hopes and excitement in the Middle East and the world and especially among the people of Kurdistan. This philosophy for a new life has made great progress in Rojava with the establishment of a free, equal common life and co-existence of Kurdish, Arab, Assyrian, Syriac, Armenian, Turkmen, Alevi, Yazidi, Christian, Muslim peoples and beliefs."
The KCDK-E added: "The forces that feared this epic struggle, the AKP-MHP fascism deepened and updated the conspiracy. The isolation, massacre, genocide carried out against the people of Kurdistan are a war against all the achievements and all four parts of Kurdistan. Isolation is actually targeting opposition, intellectuals and socialists in Turkey. As a whole, in Turkey, Kurdistan and the Middle East, women, youth and social sectors are faced with genocidal policies targeting humanity and democracy."
Recalling and saluting HDP Hakkari MP, Leyla Güven "a mother, woman, patriot and deputy who is leading a historic action to stand up to fascism", the statement said: "The hunger strike started by Leyla Güven has spread to all prisons, and was further developed by the Strasburg action. One purpose of actions is to provide an awakening to all people's conscience."
The statement added: "International institutions and forces that support the dirty policies of the Turkish state forget their responsibility putting humanity under their feet, while Leyla Güven's health situation gets worse."
The KCDK-E called on "all international institutions to take action. On 16 January we will be in front of the CPT, Council of Europe, European Parliament to demand these institutions that are playing the three monkeys."