KCDK-E thanks all those who took part in 30th Kurdish Culture Festival
The KCDK-E co-chairs issued a message thanking all those who took part in the 30th Kurdish Culture Festival in the Netherlands. .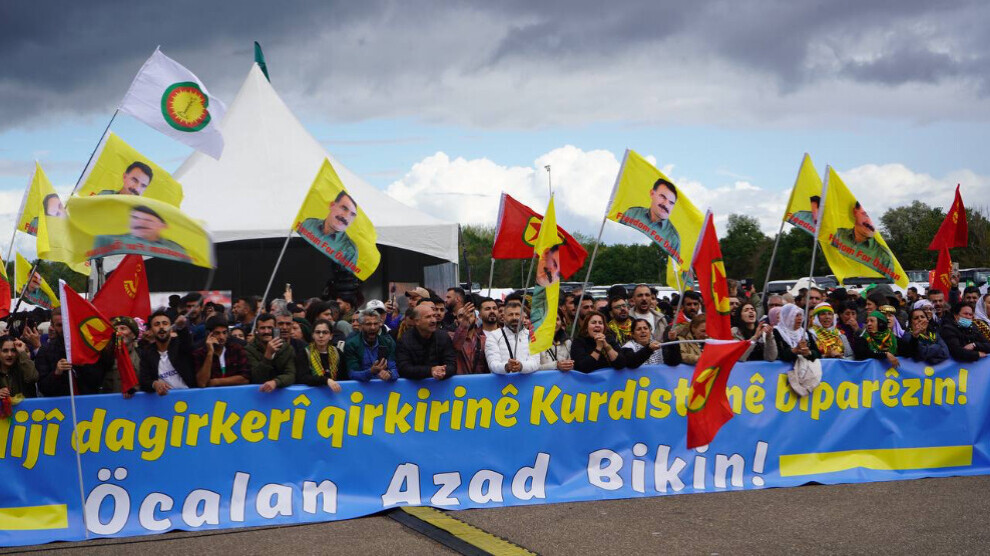 In a written message, the KCDK-E co-chairs, saluted the 30th International Kurdish Culture Festival, and thanked all those who participated in it.
The message said: "Thousands of people from Germany, France, Belgium, Switzerland, Austria, Italy and England mobilized for the Festival in Landgraf, with the slogan 'Freedom for Reber Apo' [Abdullah Öcalan].
The aggravated isolation on Leader Apo was exposed, as well as the attacks carried out by the invading Turkish state with all kinds of chemicals. The epic struggle carried out by the people of Kurdistan and the guerrillas, were hailed."
The statement continued: "It was a great day of cooperation, where dengbêjs and artists from all parts of Kurdistan took the stage, important figures, and unionists, intellectuals, scientists and personalities from all over the world called out to the people and gave messages of solidarity and determination for the freedom of Reber Apo. Young people and internationalists turned the festival area into a field of resistance with the slogans of Bijî Serok Apo".
Despite the weather conditions and heavy rain, thousands who attended the festival shouted their slogans incessantly to end the isolation on Reber Apo and ensure his freedom immediately. They exposed the silence of international powers.
The statement went on recalling that "a declaration of determination was made with messages of solidarity from South Africa, England and many other countries. Just like Mandela, it was stated that Reber Öcalan has the will of millions and that his freedom is an indispensable demand.
It was reiterated that in order for a real peace to be achieved in the Middle East, Reber Apo should gain his freedom and play his role in free conditions."
The KCDK-E also thanked the Mayor of Landgraaf and his staff who hosted the festival, the Megaland staff of the festival area, and all the council staff and press workers who worked on the stage, technique, food and all the stands despite the rain and cold weather conditions."