KON-MED criticises the ignorance of German media towards Turkey's terror in North-East Syria
KON-MED criticises the ignorance of the German media in the face of Turkish state terror against northern and eastern Syria, saying that the German press should see it as its duty to take a closer look, especially at a close ally of Berlin.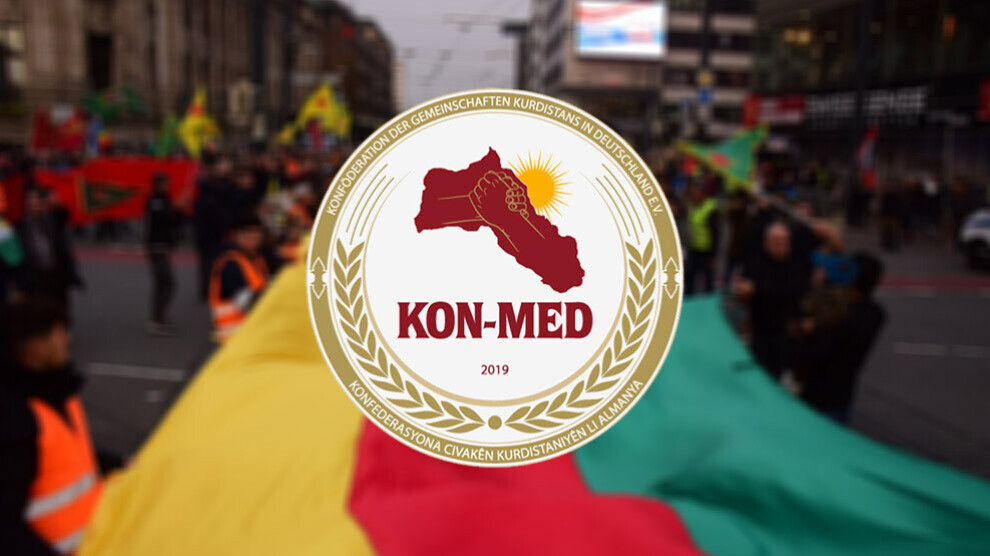 The Kurdish umbrella organisation KON-MED criticises the ignorance of German media towards Turkey's state terror in the autonomous regions of northern and eastern Syria. It is a "scandal" that outside the Kurdish-language press there is virtually no reporting on the attacks by the Turkish state against the north-eastern Syrian self-governing regions, the organisation said in a statement on Saturday.
Whether reports from the Kurdish media or official bodies in Rojava, but also contributions from a wide range of people and circles in digital networks show a clear picture, said KON-MED and continued: "These attacks by Turkey are taking place every day. The Turkish state is shelling military positions and civilian facilities alike. Whether a nurse, a student, a YPG/YPJ fighter or a farmer in a cooperative: no one is safe from Erdğan's drones; all are accused of terrorism and declared outlaws. In this, Turkey pursues an agenda of allowing only one Turkish-Islamic identity. And within this identity, only men are allowed full participation in society."
"The German press should therefore feel obliged to take a closer look at one of Germany's closest allies and report critically. Just as German politics, which proclaimed to want to pursue a "value-led foreign policy", should feel obliged to take appropriate measures to support the democratic forces in the region and to put an end to Turkey's bombing terror. We demand that Turkish state terror be named as such," the organisation wrote.
For years now, Turkish artillery and drone attacks have been carried out against residential areas and civilian and military infrastructure in northern and eastern Syria as part of a "low-intensity war" conducted as if according to NATO counterinsurgency textbooks - in parallel with several wars of aggression in 2016, 2018 and 2019. In the slipstream of the Russian invasion of Ukraine, Turkey has once again stepped up these military actions in violation of international law. Since the beginning of this year alone, the region has been attacked 3763 times by the Turkish state. In the process, 33 people have died and 124 people have been injured.
With the threats of the Turkish leadership to wage a new war of aggression against northern and eastern Syria, the intensity of these attacks has been greatly increased. So far, there is no green light from the USA and Russia for a further invasion - despite its military strength, Turkey is a regional power and must coordinate its actions with the major powers. This does not mean, however, that Turkish state terror is suspended just because there is currently no ground invasion.
On the contrary, KON-MED stressed with regard to the increasing use of armed drones and the number of artillery attacks by Turkey. Targeted drone strikes have killed 15 people since the beginning of July alone. Further deaths have been caused by artillery fire. The number of injured is also increasing almost daily and will soon approach 100.
"The civilians killed are not collateral damage. The strategy of the Turkish state is to expel people and to punish the attempt to organise a democratic civil society, both inside and outside the borders. In Kurdistan, flocks of sheep are literally bombed by the Turkish air force. Artillery shelling of villages in Rojava are another piece of the puzzle of Turkey's great campaign of terror against the Kurds," KON-MED said.