KON-MED protests threats issued in Germany by AKP deputy
KON-MED said in a statement that the Turkish state "aims at spreading its massacre policy to Germany" and said that "Kurds will stand up against these threats."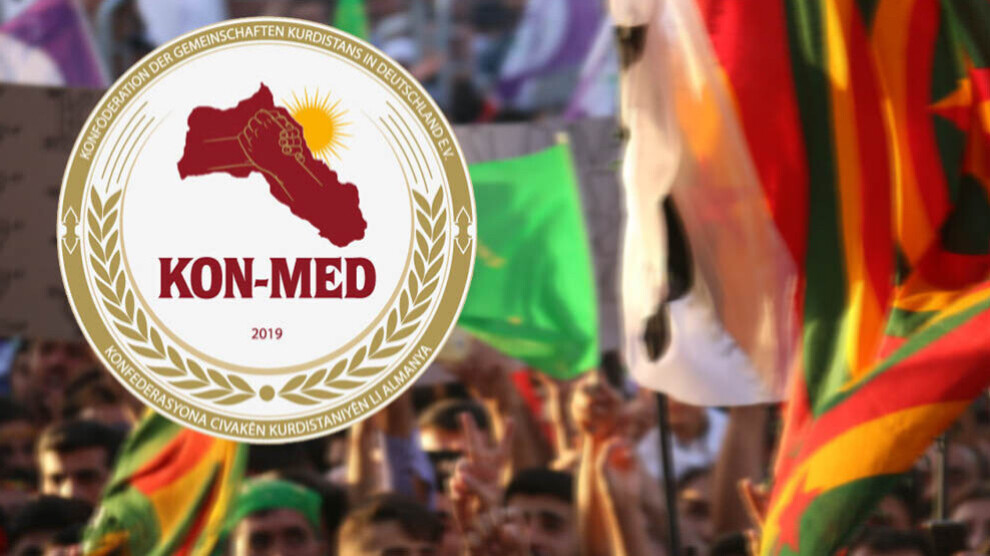 KON-MED said in a statement that the Turkish state "aims at spreading its massacre policy to Germany" and said that "Kurds will stand up against these threats."
KON-MED co-chairs said in a statement that "the Turkish state aims at spreading its massacre policy to Germany" and added that "the fact that the massacres carried out in Paris in 2013 and 2022, were not clarified as a result of the opportunistic relations between states as well as the support given to Erdogan's fascism, paves the way for these massacres targeting Kurds to happen."
'AKP deputy incite supporters to carry out new massacres'
The statement also added: "In the past few days we saw images of the speech made by AKP MP Mustafa Açıkgöz in Neuss. He openly called for attacks against Kurds and the opposition. The AKP-MHP fascist regime does not limit their massacre policy to the Kurdish people in Northern Kurdistan and Turkey. As Açıkgöz himself said, they want to kill the opposition wherever it is. These statements are not to be ignored. Only a month ago, the same hate mentality was at the basis of the massacre carried out in Paris. There have been two massacres in the last ten years targeting Kurds, and both were carried out in France. We are fighting for these massacres to be exposed."
The statement continued: "However, the German and the other European states, cannot see this reality. A serious threat is made in Neuss and the German government is happy with just releasing a statement. This is embarrassing for democracy and human rights. We believe that the warning from the German Foreign Ministry is insufficient. Germany is responsible for ensuring the safety of the Kurds. We call on the German authorities to take action on this issue in order to prevent what may happen."
The statement underlined that "the German State does not refrain from repressing Kurdish institutions every time" and added that "it did not surprise us to see such a light response to the heavy threat made by an AKP deputy. The German government, which does not hesitate to support the Turkish State at every opportunity, is personally responsible for any attack against the Kurdish people or their institutions."
'Institutions promoting hate should be investigated'
The statement pointed out that "the AKP-MHP policy is carried out not just by the coalition's representatives, but also in mosques affiliated to Osmanen Germania and DITIB, with which Erdoğan is closely associated (Rocker-Club). Kurds are often targeted by these institutions. These associations and mosques have nothing to do with religion or culture. They are inciting society to create chaos. For this reason, we believe that an investigation should be initiated immediately against these institutions, which have been operating in Germany for years. The activities of these communities as well as the groups that incite society to hate should be banned."
'Kurds should stand up against threats'
KON-MED ended its statement by reiterating that Kurds will "stand up against all these threats" and added that "the attitude of a state that talks about democracy and human rights at every opportunity does not correspond to its actions. All institutions affiliated with the AKP-MHP fascist and murderous regime should be banned as they promote hate. We believe that the German people do not accept these policies."