Mothers in Amed: We support our children's resistance
The prisoners' mothers are on day 14 of their protest. The families continue their protest despite the police blockade and attacks and say they support their children's resistance.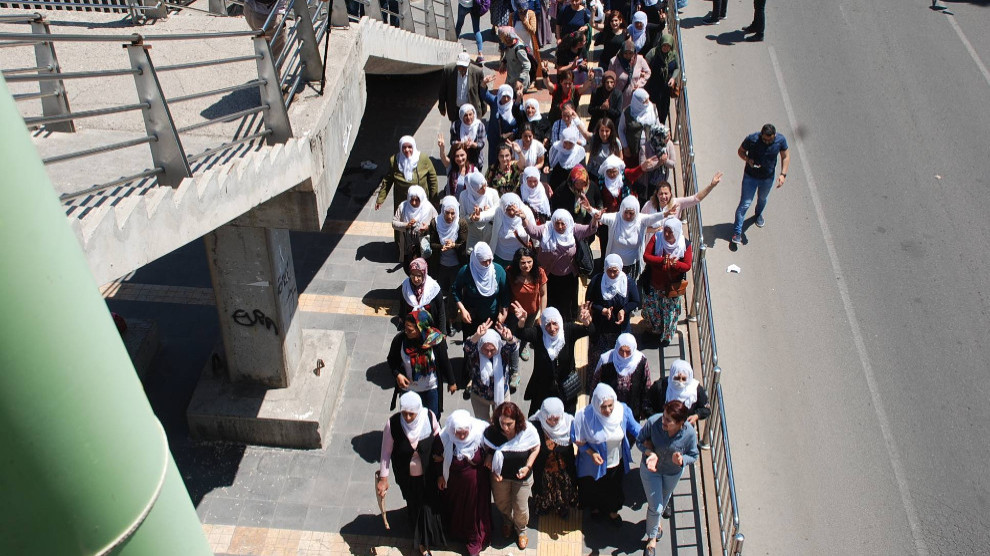 The prisoners' mothers who want to draw attention to the hunger strikes and death fasts against the isolation imposed upon Kurdish People's Leader Abdullah Ocalan are on day 14 of their protest in Amed. The mothers and relatives of prisoners gathered in the former Gurbuz Flour Factory across from the Kosuyolu Park in the Baglar district and held a sit-in for an hour under police blockade.
POLICE REMOVED MEN FROM THE AREA
The mothers were accompanied by Peoples' Democratic Party (HDP) MPs Saliha Aydeniz, Remziye Tosun and Semra Guzel, HDP Diyarbakir Chapter Co-chairs Hulya Uyanik Alokmen and Zeyyat Ceylan as well as TJA members. The mothers frequently chanted "Biji berxwedana zindanan", "Victory through resistance", "Leyla Guven is our honor", "Thousand salutes to comrades resisting in prisons" and "Rights justice and the law will come from the prisons". Protesting the police surrounding the sit-in at the Batikent Crossing with armored vehicles, the mothers said they will no longer gather there. The police removed the men who were supporting the mothers.
MPS PROTEST BLOCKADE
MP Saliha Aydeniz protested the police removing journalists from the area and said: "Why are you taking away the journalists? Do you not want people to see what happens here?" MP Remziye Tosun took a camera from one of the journalists placed outside the police perimeter and filmed the mothers under the blockade. The mothers then marched to the TUAY-DER Diyarbakir offices surrounded by the police, chanting and clapping throughout. The police attacked the people gathered closeby who wanted to support the mothers' march.
"WE CAN'T EAT AT HOME"
Rukiye Isik read a statement in front of the TUAY-DER offices in the name of the mothers and said they support the hunger strike protest by their children, and that they are in the streets because their "hearts are on fire".
Isik said: "We can no longer eat at home. Why doesn't anybody see us? Tayyip Erdogan has children too. Would he stand for it if they wouldn't eat for a few days even?"
"THEY ARE AFRAID OF US"
Isik stressed that the hunger strikers' health is not well, and continued: "Mothers can't sleep at night anymore. Our marches are stopped arbitrarily all the time. Do we have guns? Why are we surrounded? What are they afraid of?"
The protest was concluded with slogans and zilgit cheers.