New wave of repression against the HDP
A new wave of repression is rolling against members, supporters and leaders of the HDP in Turkey. Numerous people have been detained in several cities.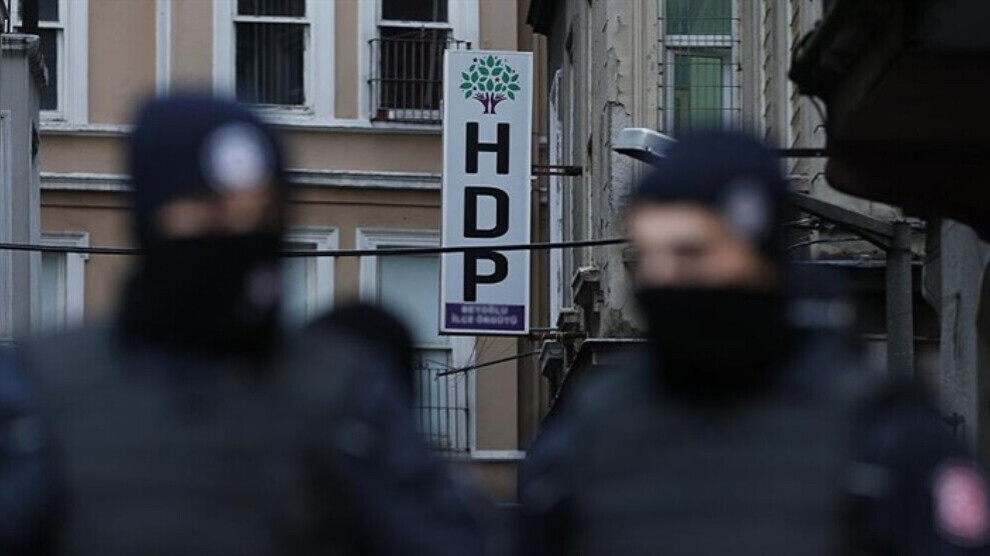 In Turkey, a new wave of repression is rolling against members, supporters and leaders of the Peoples' Democratic Party (HDP). After the authorities had made a start on Saturday with partly brutal raids and initially seventeen detentions in Amed (tr. Diyarbakır), Hakkari and Adana, more police operations took place on Monday.
More detentions in Mersin
Mersin again became the focus of the security forces. Ten flats were searched there in the early morning hours, eight people were taken into custody. Two more people from the southern Turkish coastal metropolis are being sought.
Hatay: Proceedings for "banned slogans" from 2015
In Hatay province, the Iskenderun General Prosecutor's Office has opened an investigation against several HDP members accused of "propaganda for a terrorist organisation" on the basis of chanting allegedly "banned slogans" at the Newroz celebration in 2015. In the course of this, police conducted several house searches in the districts of Iskenderun and Erzin on Monday, and several people were detained, who are Zeki Koç, a member of the HDP party council; Diyadin Sırça, co-chair of the Erzin district branch of the HDP, and his counterpart Ismet Katran of the Green and Left Future Party; HDP activists Behçet Aslan and Fırat Töre; and Ali Taylan of the Green and Left Future Party.
Fifteen detentions in Izmir and Manisa
Detentions have also been reported from the Aegean region. Police conducted house searches in the cities of Manisa and Izmir, and fifteen people have been in custody since Monday morning without giving any reason.
Police terror in Adana
In Adana, the number of detentions in the course of a large-scale police operation last Saturday has meanwhile increased to 20. Fourteen of those arrested have been released and six others are still being questioned. The basis for this is a preliminary investigation by the Public Prosecutor's Office and there is still no information on the background.
HDP youth activists detained in Van
In the northern Kurdish province of Van, four members of the HDP Youth Council have been in police custody for two days. At the time of the detentions, the activists were in 'Art Street' in the city center. In their case, too, the police have so far not given any reasons for their actions.