Oluç: Guven is a MP, the Assembly should take action
"Steps should be taken to remove the isolation that has been going on since April 2015, in an illegal way and inhuman manner."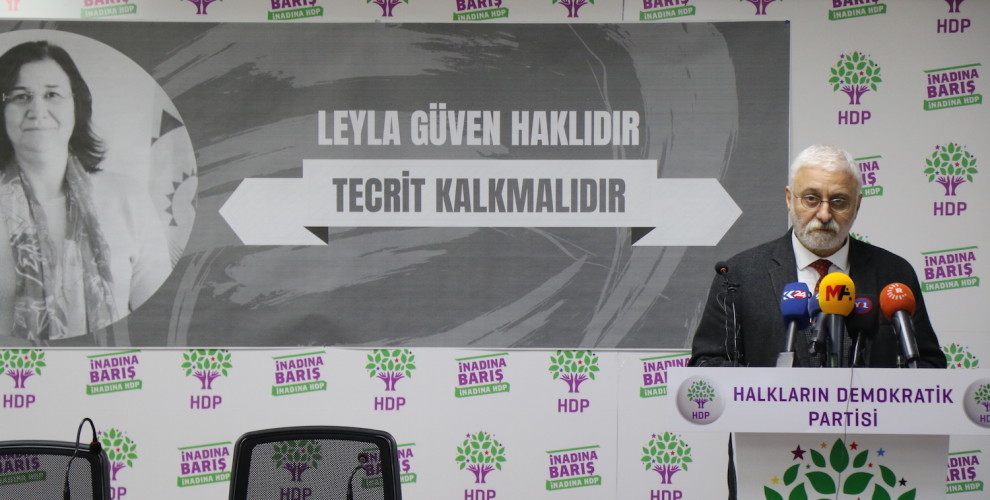 The HDP Central Executive Board met to discuss local elections and current developments.
HDP spokesperson Saruhan Oluç held a press conference to share some comments with the press on current developments.
Leyla Güven's resistance
Oluç underlined that the resistance of Leyla Güven, who is on a hunger strike demanding the end of the isolation regime in İmralı, and said: "Today is the 64th day of the hunger strike launched by Leyla Güven for the removal of isolation in İmralı. We entered a critical phase, Leyla Güven's health problems have started. Güven has lost 13 pounds, she has heavy joints pain and headaches, she suffers from numbness and fluid consumption in her body. We applied to the relevant institutions with a petition and we would like to see the results of this petition as soon as possible."
Once again, insisted Oluç "let's emphasize that Leyla Güven, who has been on hunger strike for 64 days, is an elected MP, she represents the will of the people of Hakkari, and has the same rights as all elected representatives. Yet, she is held hostage. She is the hostage of a local court. That local court puts a heavy pressure on the Assembly's legislative power. The Assembly should not continue its silence on this conviction. Steps should be taken to remove the isolation that has been going on since April 2015, in an illegal way and inhuman manner. We reiterate our call on the Ministry of Justice and the Presidency of the Assembly."
Paris massacre
Underlining the sixth anniversary of the Paris massacre [of Sakine Cansiz, Fidan Dogan, Leyla Saylemez] Oluç said "it was a great provocation towards the peace process."
Syria and Turkish occupation policy
Touching upon the occupation policies of the Turkish state, Oluç said: "The ruling AKP-MHP alliance in its phobic hostility against Kurds is violating the borders of Turkey and this reality is before the world's eyes."
Oluç added: "We once again remind the government that we are facing the last period of a long war in Syria. No step seen as revitalising war and conflict in Syria will be accepted. Turkey must end its threats.
When we look at the Kurdish people, we see a democratic force in Syria. An important force that has fought against DAESH and defeated its barbarism. In the construction of a democratic and peaceful Syria, within the borders of Syria, Kurds are a force that will play an important role in the development of democracy. This cannot be ignored."
Local elections
Talking about the local elections to be held in Turkey on 31 March, Oluç reminded that dirty tricks are already being experienced in various constituencies which will lead to gerrymandering and fraud.
As to the alliance in Kurdistan, Oluç said: "We took an important and historic step with the Kurdish alliance. Seven Kurdish Parties will run under the HDP umbrella. We will follow the results of this step that has been historically taken in Kurdish provinces with hope and excitement in the coming period."