People in Kobanê protested Turkish occupation
A rally was held in Kobanê to protest against the attacks carried out by the Turkish state in Afrin and South Kurdistan.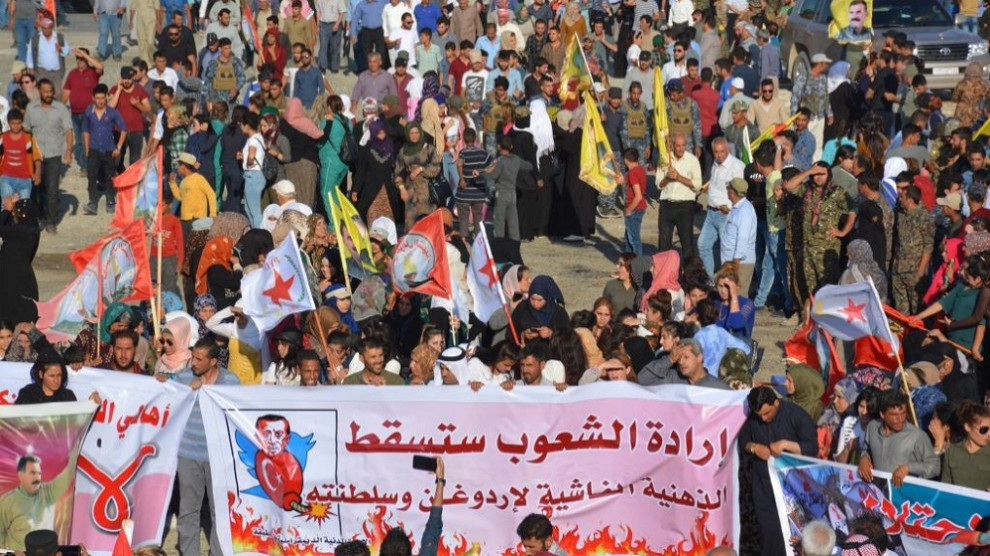 Thousands of people from Manbij, Tebqa, Raqqa, Kobanê, Dêir Ez-zor and Girê Spî joined the rally in the village of Qereqozan in Kobanê.
People chanted slogans against the Turkish occupation.
Speaking at the rally, the Euphrates Region Executive Council co-chair Enwer Muslim said: "People continue to send a clear message to the world. They say that they will not accept any project except that of the democratic nations and the brotherhood peoples. And certainly people won't accept the invasion attacks of the Turkish state ".
Muslim called on the governments of South Kurdistan and Iraq to fulfill their responsibility and stand against the Turkish state's invasion.
Syrian Future Party President Îbrahim Al-Qeftan said that it was time for a free, democratic and common life. "The period of the dictators and the invaders is now over", he said.
Co-Chair of the Manbij Civil Assembly, Nezîfe Xelo, stated that Turkish President Erdoğan would like to establish a terrorist force through the mercenaries and added that Erdoğan wants to destroy the peace and security in the region.
Nezîfe said that the international community should fulfill its responsibilities and stand up against the Turkish state's occupation attacks.
Raqqa Women's Assembly member, Xalya Kecwan, said that in reality Turkey is using the occupation attacks in South Kurdistan to hit at the same time the achievements reached by Kurds in Northern and Eastern Syria.