People protesting outside AKP headquarters detained again
A group, detained for wanting to protest outside an AKP office, said; "Why can people protest outside the HDP but not the AKP?"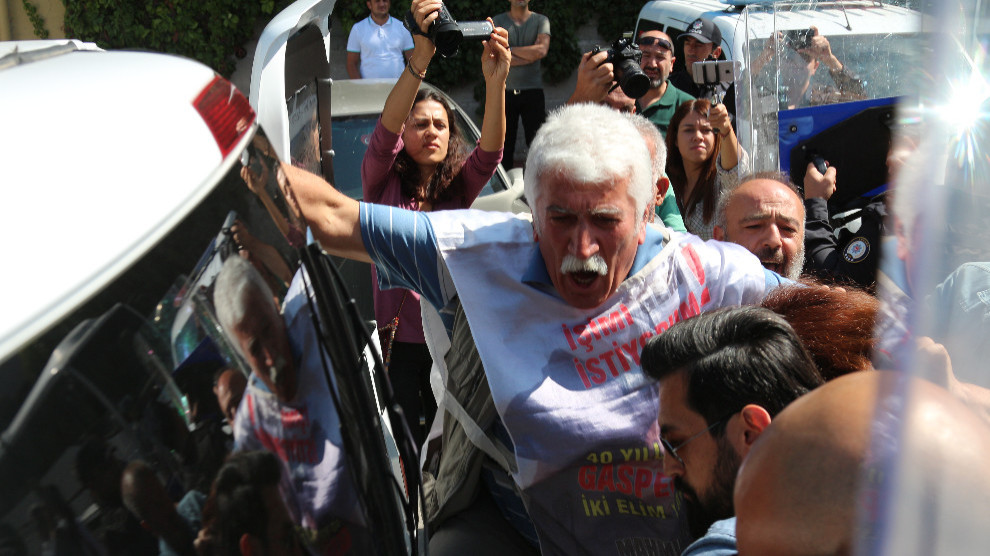 The protests in front of AKP headquarters in Turkey are widening.  The protest in Ankara, on its fourth day, was joined by Cemal Yildirim and Mahmut Konuk, who lost their jobs through an emergency decree, Laborer Movement Party (EHP) Ankara branch chair Sanem Deniz Kural and Meral Kuruç, mother of a student from a military academy who was sentenced to life imprisonment following the 2016 coup attempt.
Eight people, including mothers of military academy students sentenced to serve a life sentence, who wanted to join the sit-in protest were expelled by the police.
Police chief, who told the policemen to "sweep around", was protested by mothers saying "Are we garbage or something? What exactly will you sweep?"
Şahinde Yumuş, mother of Air Force Academy student Eren Yumuş who was sentenced to life imprisonment, shouted "The commanders of our children, who are guilty, are outside while our children are jailed".
Sümeyye Yılmaz, wife of Mustafa Yılmaz who was abducted in Ankara on February 19, expressed her reaction as follows; "If mothers can protest freely in front of the HDP headquarters, why can't I protest here looking for my husband?".
Yılmaz added; "The Minister of Interior visited the mothers protesting outside the HDP offices in Diyarbakır. Here, we try to visit him personally but he wouldn't accept."
RELATED NEWS: