Police attacked HDP MPs with batons in Nusaybin
HDP MP Huseyin Kacmaz was attacked by the police using batons as HDP MPs gathered in Nusaybin to show support for Leyla Guven.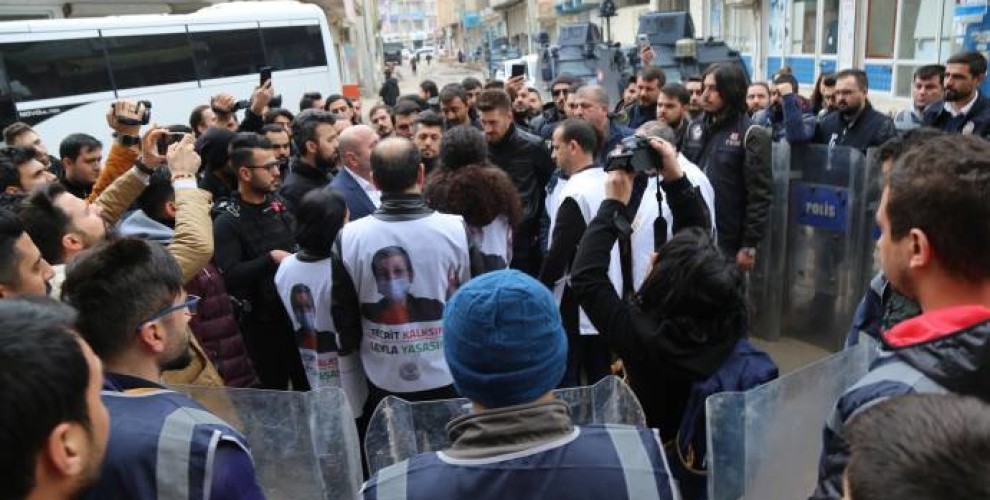 Police attacked the Nusaybin leg of the march the Peoples' Democratic Party (HDP) started from 7 cities to support Leyla Guven on her hunger strike with the motto "On Day 100 To Leyla, To Break the Isolation".
MPs Hasan Ozgunes, Huseyin Kacmaz and Nuran Imir left Sirnak yesterday and arrived in Nusaybin, where they were met with Mardin MPs Pero Dundar, Ebru Gunay and Tuma Celik in the HDP district offices. Dozens of armored vehicles and hundreds of policemen surrounded the party offices as the march was programmed to continue towards Amed from there, and Nusaybin District Governor and Police Chief also went to the blockade.
The MPs left the building en masse after a while to start marching, but were stopped by the police as the police surrounded them.
KACMAZ ATTACKED WITH BATON, DUNDAR WOUNDED
When the MPs insisted on marching, the police surrounded them with their shields and started kettling and battering. One police officer was seen hitting MP Huseyin Kacmaz repeatedly with his baton.
MP Pero Dundar was wounded during the kettling as her finger was caught between shields.