Prisoners' mothers with white scarves in Istanbul's May 1 cortege
Mothers of prisoners attended the May 1 celebrations in Bakirkoy wearing their white headscarves.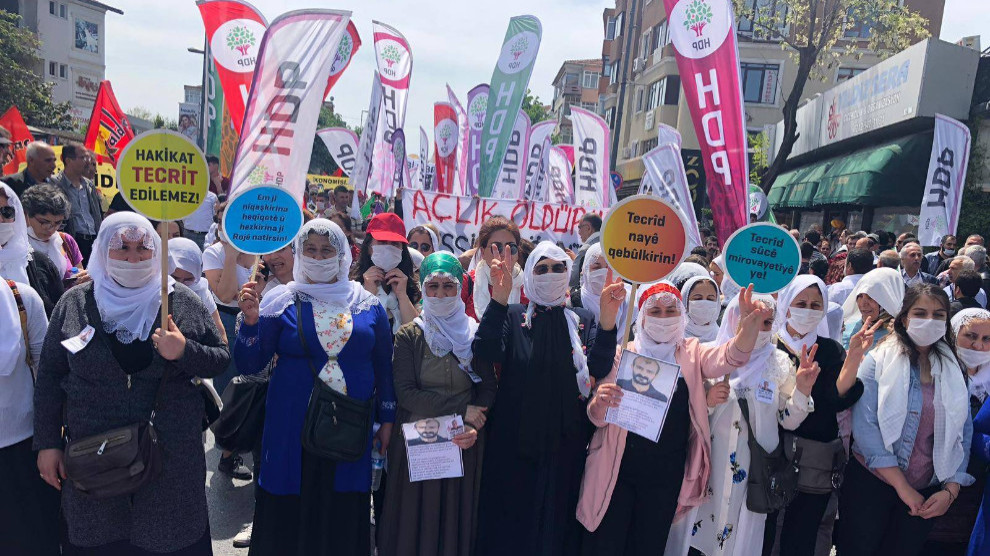 Thousands of participants have gathered in the corteges for the march for May 1 celebrations to be held in the Bakirkoy Marketplace in Istanbul. Revolutionary Workers' Unions Confederation (DISK) and many other trade unions and NGOs are gathering in the Marmara Forum Shopping Mall parking lot for the march to be held under the motto, To May 1 for Labor, Justice and Freedom".
"END THE ISOLATION" SIGNS
KESK, TMMOB, Peoples' Democratic Party (HDP) and Peoples' Democratic Congress (HDK) and other public and political bodies met in Dikilitas.
Mothers and relatives of prisoners had announced that they would attend the rally with their white headscarves to draw attention to the ongoing hunger strikes to end the isolation imposed upon Kurdish People's Leader Abdullah Ocalan, and they led the cortege at the front.
The mothers gathered in Dikilitas early in the morning and put up signs that read "End the isolation Stop deaths", chanting "Biji Berxwedana Zindanan" as they waited for the march to start.
Turkey's Chamber of Medicine (TTB) and Labor Party as well as many other bodies met in the E-5 Yanyol to form another arm of the march.
Police put up barricades along the march's route and set up checkpoints.
The people passing the checkpoint to enter the rally area continue to wait for the start of the rally with drums and music, dancing and singing.
The corteges chant, "Freedom for political prisoners".