Protests in Vienna, Stuttgart and Saarbrücken
Demonstrations were held in Vienna, Stuttgart and Saarbrücken to protest the seizure of the HDP-run municipalities and the Turkish threats of invasion.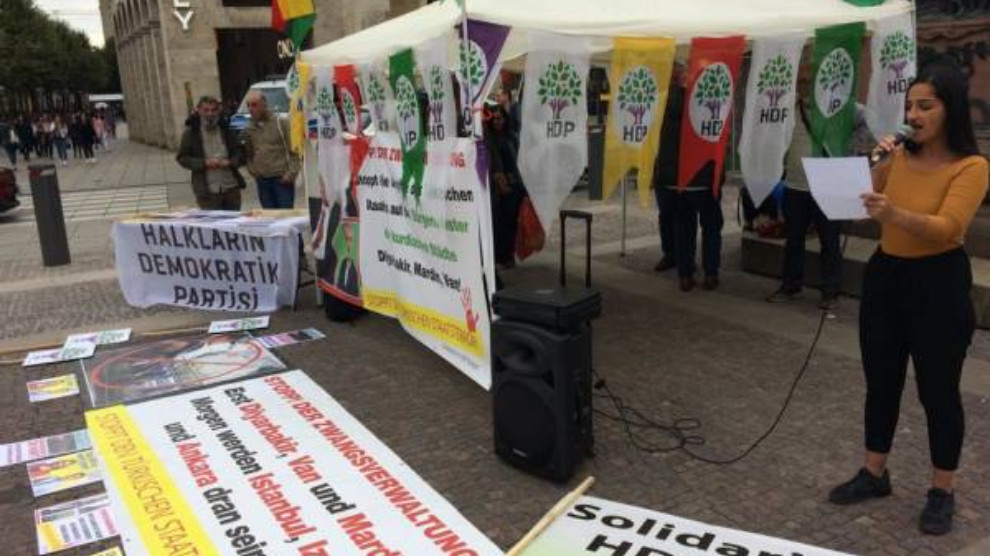 In Vienna the demonstration was held at the Westbahnhof-Christian-Broda-Platz, promoted by the Austrian Democracy Platform. Kurds and their friends opened posters with photos of prisoner politicians.
Speaking at the rally, the co-chair of the Austrian Democratic Kurdish Community Council read a letter from the dismissed HDP mayors of Amed, Mardin and Van to the mayors of European capitals.
Former deputy of the Austrian Green Party, Berivan Aslan said that there is a continuation of the unlawful practices of appointing trustees and these are unacceptable. Aslan said that Europe should take a clear attitude against the repression carried out by the Erdoğan regime.
'Solidarity with Political Refugees Association' president, Michael Genner, stressed that they support the Kurdish people's struggle against the practices of the fascist AKP regime and that they will not leave the Kurds alone.
He also referred to the scandalous decisions of the Austrian State regarding political Kurdish refugees and called for Austrian institutions to stop approaching Kurds with the Turkish state's approach.
Finally, Xalis Sever, co-chair of the Austrian Democratic Kurdish Community Assembly, said that they will continue to be in the streets to protest against the fascist practices of the AKP-MHP regime.
STUTTGART
An information tent was opened in Stuttgart against the seizure of municipalities at Schlossplatz (renamed Kobanê Square).
Activists handed out leaflets explaining what is going on in North Kurdistan and the last decision by the AKP to seize the municipalities of Amed, Van and Mardin.
The action also called for participation in a march organized by the solidarity platform with the HDP at 15:30 today leaving from Stuttgart Lautenchlegerstrasse.
SOLIDARITY ACTION WITH ROJAVA IN SAARBRÜCKEN
In Saarbrücken, the threats carried out by the Turkish state to invade Rojava was protested.
As in many other cities this demo was organised within the scope of the "RiseUp4Rojava"  campaign.