Qamishlo took the street for Öcalan
Thousands of people of Qamishlo took to the streets on 9 October to mark the 20th anniversary of the international conspiracy which forced Kurdish People's Leader Abdullah Öcalan out of Syria.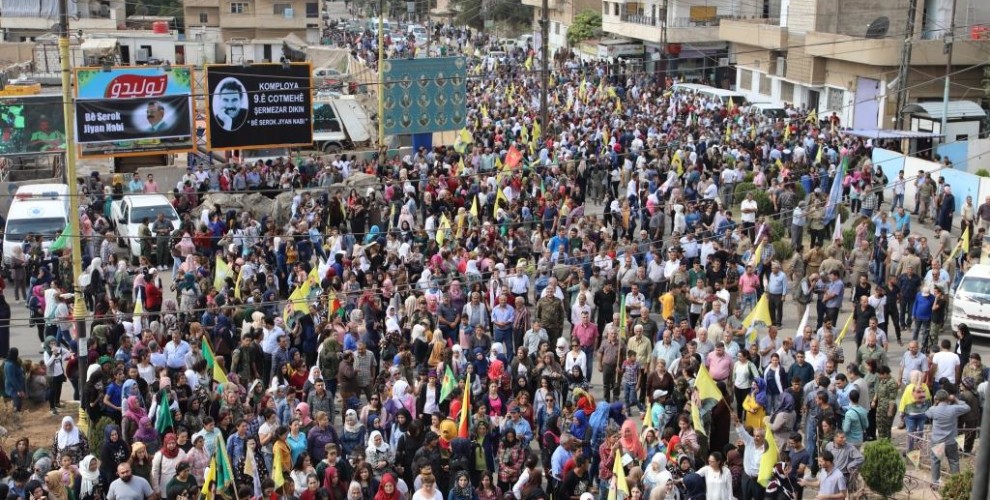 Thousands joined the march through the city while shopkeepers showed their support by closing the shutters. 
Home Security Forces, HPC / HPC-Jin and Traffic teams provided safety in the march.
Starting at Osman Sabri boulevard, the march was dotted with the posters of Kurdish People's Leader Abdullah Öcalan, TEV-DEM, Congressman Star and YCR-YJC flags.
Slogans were chanted all claiming victory for the resistance. 
Speaking at the rally, Muna Yusif, member of Kongreya Star Rojava Administration, condemned the international conspiracy and said: "Twenty years have gone by since that 9 October 1998. The colonial powers targeted the Kurdish Freedom Movement and the freedom of peoples in the person of leader Apo. They intended to break our will by capturing leader Apo. Yet - she said - the plotters plans are in vain. Because the ideology of Leader Apo is free and has been spreading day after day". 
Qamishlo Canton Council member Mazlum Yusif, said that the Kurdish people and the resistance of the freedom fighters have spoiled the conspiracy objectives.