Rally for a "human and dignified life" in Istanbul
Thousands took to the streets in Istanbul to join the rally organised with the slogan 'We Want to Live Humanly' by the Labor and Peace Democracy Forces.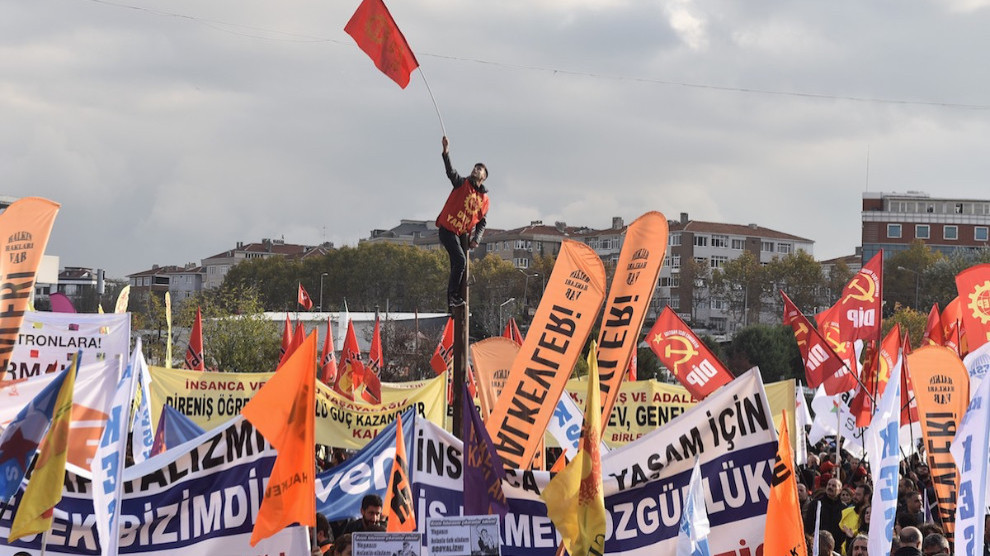 The rally was held in Bakırköy Market Square and it was against poverty, unemployment and exploitation.
DISK, KESK, TTB unions and a large number of political parties and democratic mass organizations joined the rally, as well as HDP deputies Züleyha Gülüm, Oya Ersoy, Musa Piroğlu.
Thousands gathered at the Obelisk and marched to Market Square.
Among the most colourful and noisy section of the march was the HDP and HDK ones. 
A young demonstrator was detained as the march was entering Market Square.
The rally began with a minute silence for those who lost their lives in the struggle for democracy and freedom. Özlem Talu and Özkan Öztürk made a joint statement on behalf of Istanbul Labor, Peace and Democracy Forces.
The speakers pointed out to the price of electricity, which increased by 72 percent in the last two years, and the price of natural gas which increased by 60 percent.
"While poverty increased, one percent of the population holds 54 percent of national wealth, income tax is paying 92 percent of the labour forces," said the speakers.
"They want to condemn us again 'hunger wage'. - added the speakers - The 2020 budget was adopted in the Plan and Budget Commission. The share of the workers is once again poverty and misery. As of November 2019, there are 7 million 305 thousand people unemployed. 2 million women and 3.5 million young people are neither in education nor in employment."
The speakers reminded that "life is getting harder and harder for the people who live of their labor. Those in power are trying to sell a fictitious 'New Economic Program' and are expecting us to believe in inflation and growth targets that will never hold. They make excuses for the political and economic crises they create; they say 'there is a coup attempt', they say 'there is war', silencing the voices of those who want a peaceful solution to the Kurdish problem, even forbidding the words of war and peace."
The speakers also underlined that the "government ignored the right of the people to chose their own elected representatives."