SIt-in for Öcalan in Strasbourg enters day 4
Representatives of Turkish institutions entered the fourth day of action in Strasbourg. The action is part of the KCK's initiative launched on 12 September.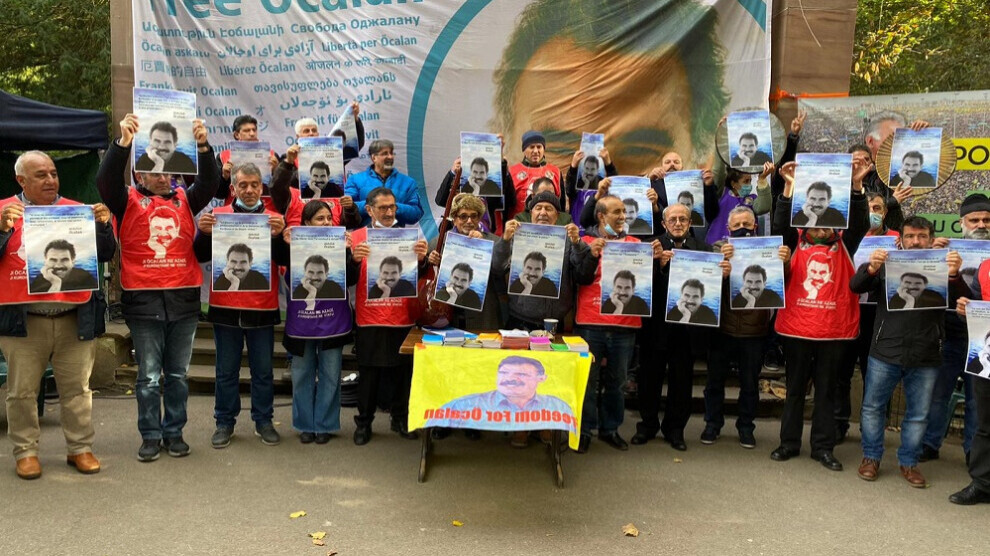 The sit-in in front of the European Council demanding freedom for Kurdish People's Leader Abdullah Öcalan has entered its fourth day with more determination than ever. The sit-in is taking place next to the Freedom for Öcalan Vigil, which has been going on for eight years in Strasbourg.
The sit-in is part of the "End isolation, fascism, occupation; Time for Freedom" campaign launched by the KNK on 12 September and began on 12 October. It is attended by representatives of the revolutionary movements and organisations as well as beliefs and peoples of Kurdistan, Turkey and the Middle East.
Activists who joined the sit-in hand out leaflets written in various languages in front of the Council of Europe describing the life, thoughts and aggravated isolation imposed on Kurdish people's leader Abdullah Öcalan.
The Freedom for Öcalan Vigil action area has been equipped with Kurdish people's leader Abdullah Öcalan posters and banners.
On Wednesday, the Kurdish people and their friends visited the protest to reiterate that they are a part of this initiative and called for Kurdish people's leader Öcalan to be free.
The ideology and philosophy of Abdullah Öcalan, based on ecology, gender equality and common life, were summarized with posters writing excerpts from Öcalan's books.
On Wednesday evening, the European Confederation of Workers from Turkey (ATIK) visited the sit-in. At the dinner given at the Friendship and Culture Center affiliated to ATIK, it was emphasized that revolutionary solidarity will continue to grow.
Artists members of the Federation of Maraş Associations (MAR-DEF), including Hozan Emekçi, and artists members of TEV-ÇAND also visited the action on Wednesday. Artists supported the resistance with their revolutionary songs.