"South Kurdistan parties must not fall into Turkey's trap"
In addition to military attacks, one of the central strategies of the Turkish state is to foment conflicts within the Kurds and to prevent Kurdish unity. HDP politician Zeyyat Ceylan warns the parties in southern Kurdistan of this trap.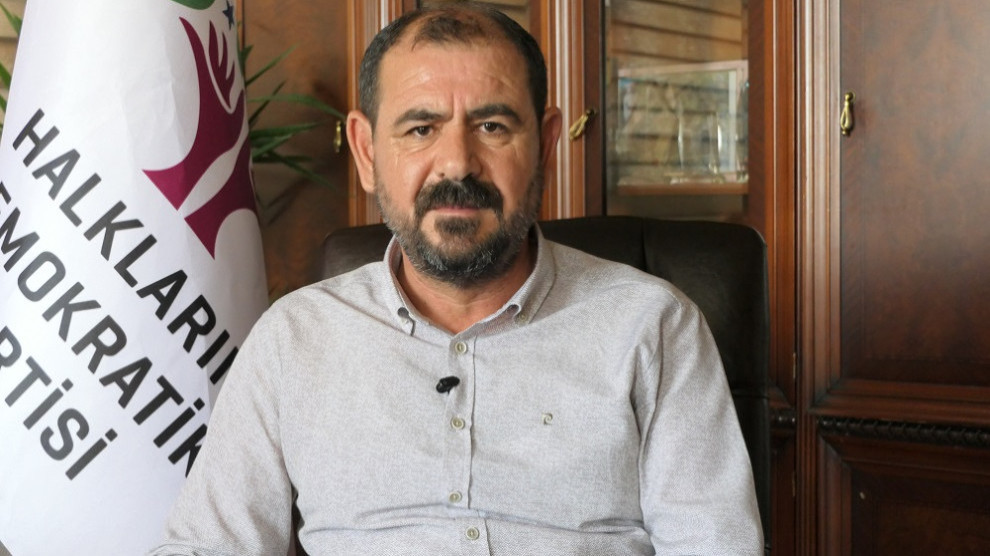 Since May 27, the occupation operation of the Turkish army in South Kurdistan continues. Unable to advance on land due to the resistance of the guerrilla forces, the Turkish army carries out daily air raids. For months, civilian settlement areas in Xakurke, Goshine, Qandil and Behdinan have also been bombed.
Zeyyat Ceylan, co-chair of the Peoples' Democratic Party (HDP) branch in Amed, spoke to ANF about the Turkish invasion operation and the South Kurdistan Government's support for the Turkish state.
Ceylan is of the opinion that the dream of the Turkish state is to gain control over the areas designated in the National Pact (Misak-i Milli). "Turkey attacks from all sides so that the Kurds do not get rights. The state regards Kurdistan as its own territory and attacks the Kurdish achievements. It wants to gain control over the region through the FSA militias in Idlib and Aleppo. In addition, it wants to gain control in Mosul, Kirkuk and Shengal. The occupation plan, which has taken on a new dimension with the operation against Xakurkê, is very comprehensive. In this operation, the Turkish state wants to attack the Kurds after drawing Iran and Iraq to its side."
All four parts of Kurdistan are Turkish targets
The AKP government does not want a solution to the Kurdish question, said Ceylan and pointed out that the Turkish state ended the peace process initiated by Abdullah Öcalan, disrupting the peace environment in the country.
"The Turkish state wanted to deceive the Kurds with unsubstantial methods. When this didn't succeed, it resorted again to violent methods against Kurds. These attacks have been going on for about four years. The attacks in Bakur (North Kurdistan) have never stopped. After the great success achieved in Rojava, the Turkish state wanted to destroy the achievements there. And now it attacks Bashur (South Kurdistan)."
According to the HDP politician, the military operation in Xakurke is not an ordinary one: "One of Turkey's goals is to fight against the unity of the Kurdish people. It seeks a conflict between the Kurds in the four parts of Kurdistan and a Birakujî (fratricidal war). After Kirkuk and Afrin, it wants to occupy South Kurdistan now. In this respect, the South Kurdistan parties KDP, PUK, Gorran and the Komala Islam have a great task. They absolutely must avoid getting into the Turkish trap."
"One word from Öcalan is enough"
A word from Abdullah Öcalan is enough to bring calm to the country, emphasizes Zeyyat Ceylan and continues: "The Kurds do not want anything special from the government. They just want compliance to laws. Unfortunately, the state continues its arbitrary practices. Thanks to the hunger strike and the resistance of mothers with white scarves, a meeting with Öcalan has taken place. Mr. Öcalan is not an ordinary person. That should be clear to the Turkish state. He plays an important role for the Kurdish people. This has also been proven by the state in its practice. It has accepted that Öcalan has a leading role and great influence on the Kurds. Whenever Öcalan is kept out of the process, chaos breaks out in the country. A single message from him is enough to bring peace to the country. The Kurdish people are waiting for a message from Öcalan. He has been fighting for peace and calm in the country for forty years. For years he has declared that he is ready for a solution and able to end the war situation. The state must listen to this call."