Trial against Catalan pro-independence leaders to begin tomorrow
The landmark trial of 12 Catalan pro-independence leaders is opening on Tuesday, in Madrid.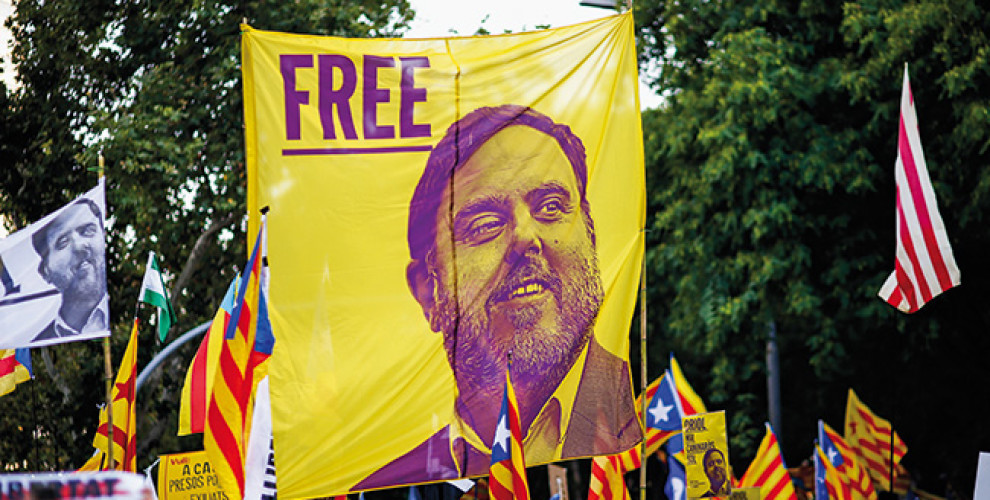 Twelve senior members of the Catalan independence movement will stand trial in Madrid on Tuesday for their stance in favour of Catalonia's independence.
In October 2017 the democratically elected parliament voted an independence declaration.
Among the 12 leaders on trial accused of sedition charges are the former Catalan vice-president and leader of the Republican Left of Catalonia (ERC) party, Oriol Junqueras, who has been in pre-trial custody since November 2017.
He faces a 25-year sentence if found guilty of charges of rebellion and misuse of public funds brought by the public prosecutor, or a 12-year sentence if found guilty of the sedition charge brought by the state's attorney.
Jordi Sànchez and Jordi Cuixart, Los Jordis
Sànchez, a regional MP and former president of the influential grassroots Catalan National Assembly (ANC), and Cuixart, the leader of the Òmnium Cultural civil society group, are the Catalan leaders who have spent the most time in pre-trial detention.
Indeed, the two leaders were arrested in October 2017 as part of an investigation into alleged sedition in the run-up to the independence referendum that had taken place two weeks before their detention.
Los Jordis are accused of using demonstrations to try to stop Spanish police from executing the judge's orders to halt the referendum. An accusation which would be ridiculous if the two were not facing 17-year sentences if convicted of rebellion, or 12 years if found guilty of sedition.
No wonder that even Amnesty International has called for their release and said the charges they faced were unjustified.
Carles Puigdemont
The former president of Catalonia (from January 2016 to October 2017) Puigdemont fled Catalonia for Belgium days after the unilateral declaration of independence.
A Spanish judge was forced to drop an international arrest warrant issued for Puigdemont, after the refuse of a German court to extradite him for charges of rebellion.
He faces immediate arrest on charges of sedition, rebellion and misuse of public funds should he return to Spain.
Several Catalan politicians in exile
It has not to be forgotten that several Catalan deputies have been forced to go into exile. Such is the case of Anna Gabriel, CUP (Popular Unity Candidacy) deputy who is now in Switzerland.
Likewise Marta Rovira, ERC leader also went into exile.