Trustees protested in France, Switzerland and Germany
The Kurds and their friends in France, Switzerland and Germany protested the AKP-MHP's seizure of Amed, Van and Mardin municipalities.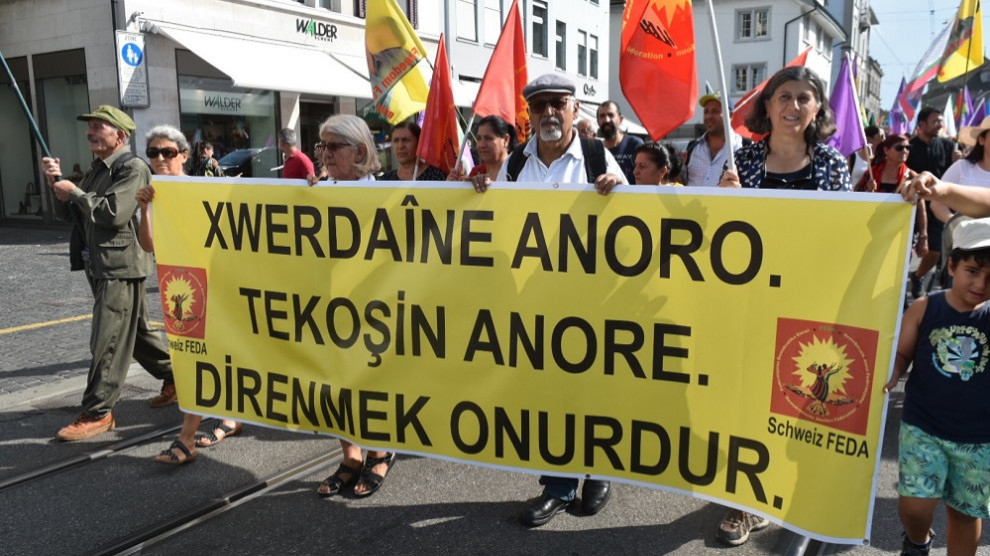 New protests against the seicure of the HDP-municipalities of Amed, Van and Mardin by the AKP-MHP were organised in Paris, Marseille and Bordeaux, Zurich and Hamburg.
PARIS
In Paris, the Kurdistanis and their friends protested against the seizure by the Turkish state of the municipalities of Amed, Van and Mardin.
The action, under the leadership of the Paris Democracy Platform, was held at Republique Square.
Many HDP flags were seen at the action which turned into a march and rally which ended in Chatelet Square. 
MARSEILLE
A protest was organized in Marseille against the trustees.
Coming together Canebiere Turks and Kurds living in Marseille joined their voices against the seizure of the Kurdish municipalities by the Turkish state.
BORDEAUX
In Bordeaux Kurds and their friends protested the AKP-MHP's decision to appint trustees to the municipalities of Amed, Van and Mardin.
CDK-Bordeaux Co-Chair Mehmet Varto said that Kurds will continue to expose AKP / MHP fascism wherever they are.
ZURICH
The seizure of the municipalities was also protested in Zurich with an action promoted by the Union of Democratic Power.
Swiss Democratic Forces Union (IDGB) promoted the action which began with a minute silence for the martyrs of freedom. After the opening speech on behalf of IDGB, the activists marched towards Helvetiaplatz behind a banner saying 'Let us fight together against the occupation and usurpation of the fascist state'.
Katharina Prelicz-Huber on behalf of the Swiss Green Party, Marco Denoth from the Socialist Party (SP), Urs Sekinger from the Zurich-Amed Brotherhood Committee Urs Sekinger, from Internationalist Feminist Women's Organization the Basque revolutionary Nekane Txapartegi, and Nejdet Atalay from Batman spoke at the rally.
Katharina Prelicz-Huber said: "believe the trustees' appointment is a coup against democracy."
HAMBURG
An action was organized in Hamburg to protest the seizure of the three HDP-run municipalities. The protest in Altona was attended by a large number of groups from the Hamburg Democracy Platform, ATİK, AGİF and DKTM.
Deniz Çelik, Member of the Hamburg Left Party, Devrim Renas from the Hamburg Platform for Democracy and the women's activist Anja Flach made speeches.