YPJ Commander calls out from the EP: Stop the Turkish state
Commander Arian, title character in director Alba Sotorra's documentary, attended an event after the screening of the film in the EP through a video call. Commander Arian said, "Stop the Turkish state and all who help ISIS."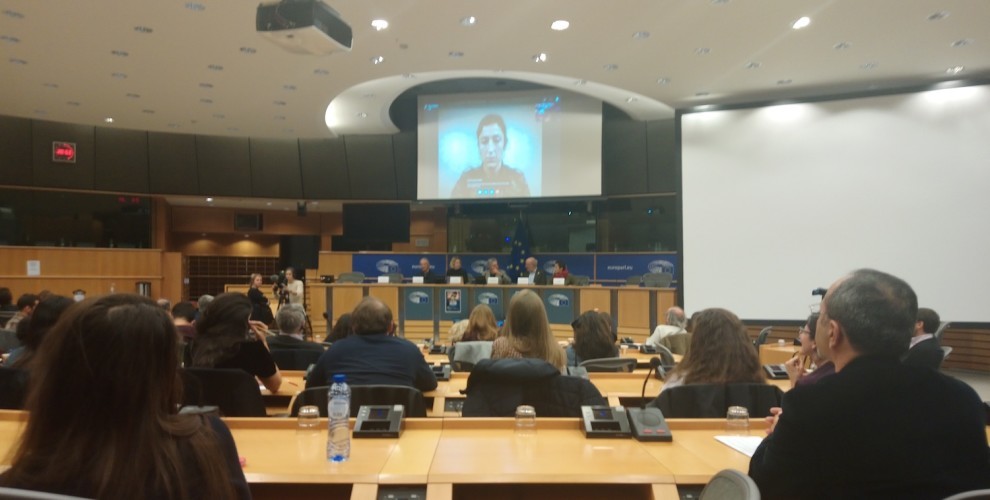 The 'Commander Arian' documentary directed by Alba Sotorra was screened in the European Parliament on Wednesday evening. The screening was marked by the title character YPJ Commander Arian attending the event through a video call.
Dirk Campbell, father of YPJ fighter Anna Campbell who lost her life in Afrin, director Stelios Kouloglou and Kurdish women's movement activist Dilar Dirik also attended the event.
"THE TURKISH STATE AIMS TO STRENGTHEN ISIS"
YPJ Commander Arian said there has been a very intense war in Rojava for the last 6 years and added: "Kurdish, Arab and Turkish youth, as well as young people from Europe and other countries of the world, came here and fought."
YPJ Commander Arian said: "We defeated ISIS but the Turkish state wants to strengthen them again. We saw the Turkish state's atrocities in Afrin in particular. We are calling for an end to attacks against the Kurdish people."
Commander Arian stressed that they will defend Rojava and, pointing to the latest attacks by the Turkish state against Kobanê and Girê Spî, said: "Stop the Turkish state and all who help ISIS."
YPJ Commander Arian said the Rojava defense "became the defense of humanity," and continued: "Threats and attacks against Rojava continue. The Turkish state threatens all the gains we have made. They want to destroy our life. But we will defend our revolution. This revolution has humanity in it, it has freedom."
Commander Arian saluted YPJ fighter Campbell's father Dirk Campbell. The YPJ commander's speech received a long standing ovation.
Dirk Campbell gave examples of the Turkish state's attacks against the peoples of Rojava.
Campbell showed the audience videos of Haci Lokman Birlik whose lifeless body was dragged behind an armored vehicle, and YPJ fighter Barin Kobanê whose body was exposed after she was killed. The father said there is no difference between the Turkish state and ISIS.
Dirk Campbell said his daughter lost her life during a Turkish state attack against Afrin and called for solidarity with the peoples of Rojava.
The film tells the personal story of YPJ Commander Arian who participated in the Kobanê defense and the story of fighter women, their courage, resolve and the price they paid to create the change they did.