Celebrating May 1 in Qamishlo: "We will tear down the invasion!"
Hundreds gathered in Qamishlo to celebrate May 1 in the Newroz grounds.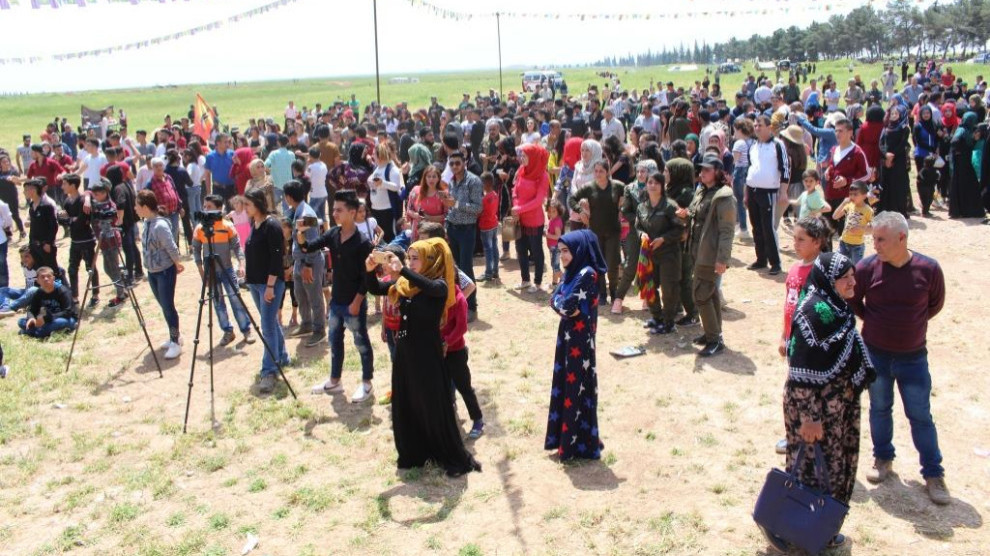 Hundreds of people from Qamishlo celberated May 1 Workers' Day in the Newroz grounds in the Himo village with the motto, "We will liberate Afrin with the labor of democratic society, We will live free with Kurdish People's Leader Abdullah Ocalan".
Domestic Security Forces, Traffic and Hawari units ensured safety in the area.
The celebration grounds was adorned with posters of Kurdish People's Leader Abdullah Ocalan, photographs of hunger striker and DTK Co-chair Leyla Guven, YPG-YPJ and SDF fighters who were martyred in Northern and Eastern Syria, flags of the Cizre Region Workers' Committee, Kongreya Star and TEV-DEM.
Arab, Kurdish, Armenian and Syriac peoples attended the celebrations in their traditional clothes.
Qamishlo Workers' Committee Co-chair Leyla Mio spoke about the history of May 1 and gave messages against the invaders: "Despite their inhumane plans, we will liberate Afrin, and we will raise our struggle against the invading Turkish state's attacks."
"WE WILL LIBERATE OCALAN WITH THE SPIRIT OF MAY 1"
Kongreya Star Qamishlo administrator Hacer Hesen said: "We celebrate the day with the hunger strikes led by Leyla Guven and the death fast resistance, as well as the struggles of the peoples. We will physically liberate Kurdish People's Leader Abdullah Ocalan with the spirit of May 1. We will tear down all invasion systems with the will of the democratic people."
Later, Botan Hesaf and Cemil Ehmed recited poems in the celebrations and Koma Botan, Koma Derik and Koma Sazkar gave concerts.